You don't have to be a baker to understand the value of a wire cooling rack. It's something I use nearly daily, and not just for apple turnovers. The cooling rack provides a wide, stable surface for hot trays and pans, but also cookies, grilled cheese sandwiches, or pancakes. Sadly, the good news has not yet spread, and I walk into a lot of kitchens that don't have cooling racks. If this is you, here are some of the best cooling rack alternatives you can lean on in the meantime (until you get a real one).
The point of a cooling rack is to allow air flow around and under whatever you put on top of it. This ensures rapid cooling, stops over-browning from the residual heat of the pan, and prevents humidity building up underneath. Cooling racks usually have feet. They sit about a half-inch off the countertop so air can pass underneath, making them superior a folded dish towel, cutting board, or countertop (which could take some damage). None of those will create a helpful cooling environment. You need something with ridges or open spaces beneath the food, for faster cooling, and so moisture can escape.
The best cooling rack alternatives
There are two primary things that need this kind of cooling: entire pans, like sheet trays, cast iron skillets, and frying pans, or individual food items, like cookies, cakes, or grilled cheese sandwiches. Here are six options. Some are better for entire pans, some for individual foods, and there are a few that can do both.
Flip a muffin tin upside-down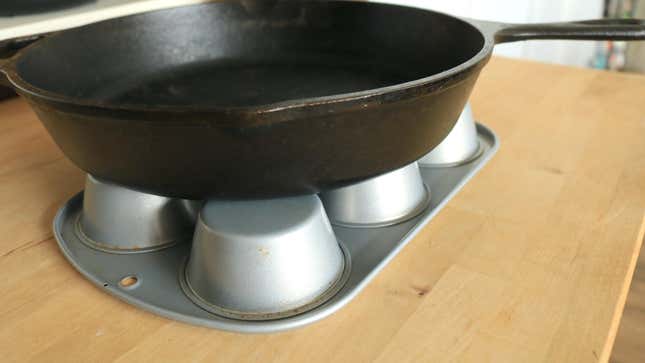 Flipping a muffin tin, or cupcake pan, upside down provides a flat metal surface, and the channels between the cups allows air to flow easily. Ideal for cooling hot skillets, sheet trays, and large, structured food items like toasted sandwiches. (Small cookies, hot cakes, or soft items might not fare well with the large spaces between the cups.) Simply flip the muffin tin upside down on the counter and put the hot pan on top to cool.
An overturned egg crate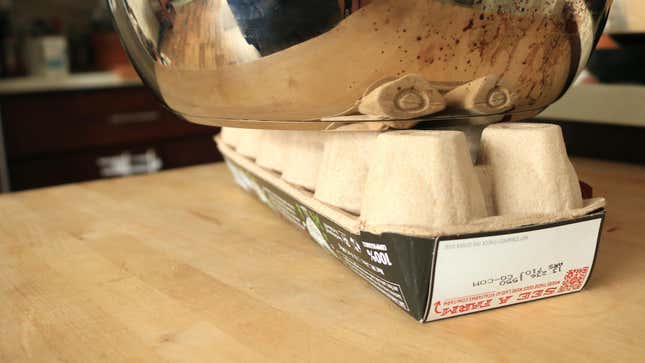 If you don't have a cooling rack, you might not have a cupcake pan either, but a paper carton of eggs is a bit more common. This option works the same way that the muffin tin does–the egg cup bottoms support the hot object while the spaces in between allow for air and moisture to flow around and away. Overturn an empty carton of eggs (just take the eggs out to rest somewhere else for a hot second), and put the hot object on top. Paper or cardboard cartons are best. If you're putting a hot skillet on a plastic egg crate, you might have a melting problem.
Offset two sheet trays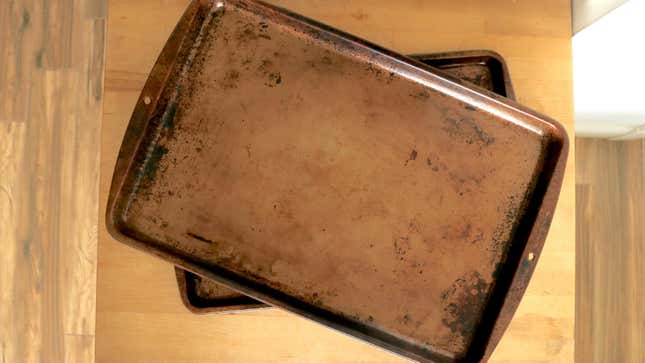 I use this trick when I'm roasting veggies or baking cookies. Take the hot tray out of the oven and put it on another sheet tray of the same size, or one that's slightly smaller. Instead of lining them up, set the top one diagonally. The walls of the bottom tray will hold the top tray up so air can pass, and the open corners will provide entrances for airflow.
Crumpled some foil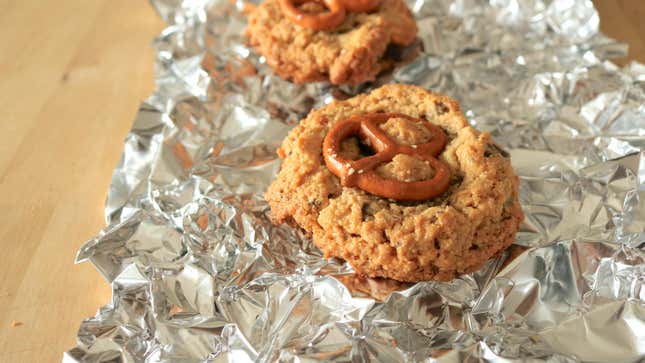 This trick is not for pans and trays, but it's great for light, small-to-medium food items that need a quick cool down, like thick cookies, bacon, and biscuits, or air fryer treats like spanakopita pockets. Take a big sheet of foil, heavy duty if you need extra support, and loosely crumple it up. Un-crumple it and allow the peaks and valleys to remain. Lay the hot food carefully on top so they are supported by the peaks in the wrinkled foil. If the foil collapses under the weight of the food, you can make more purposeful, evenly spaced folds and sneak forks, knives, or other utensils underneath to keep it from completely flattening out. Be careful because foil can be surprisingly sharp, and don't crumple the foil too tightly, or it'll be hard to undo without it ripping.
Arrange some chopsticks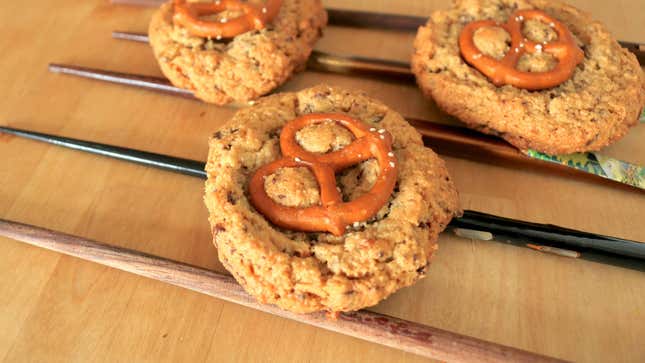 This trick is handy because you can adjust the spacing of the chopsticks to fit your needs. You can place large pots, trays and skillets on as few as two widely spaced chopsticks, but if you have a collection of this utensil, you can lay them out parallel to each other, about half an inch apart to make an impromptu cooling rack for small items. The sturdy wood will only lift the food up about a quarter-inch, but even this small amount of elevation allows for more airflow than putting it straight on the countertop.
Repurpose your toaster oven's grate
A conventional oven has grates, but they're awfully large, and you probably just used them to bake something if you're seeking a cooling rack. A toaster oven, on the other hand, has a proportionally small grate that looks a lot like a cooling rack. It even has wires on each side that can function as feet. Make sure the toaster oven isn't hot, and take out the grate. Put it on the counter and place hot items right on top.
Nothing will ever usurp the wire cooling rack, but desperate times call for desperate measures. Amongst the six of these, you'll have most of your cooling needs covered. Try one or more of these options the next time you're in desperate need of a cooling rack alternative.