Whether you choose to get a shopping cart—or trolley, if you prefer—from the corral inside the store or bring one in from the parking lot, one would typically assume that the cart would be empty before the start of your shopping trip at any retail or grocery store.
However, occasionally, you may find a discarded receipt, a shopping list, or bits of trash left behind by a previous customer.
Now, imagine retrieving a cart from your local grocery store's parking lot only to discover winning lottery tickets along with a prize check inside, a newborn abandoned in a backpack, or a rare boa constrictor has made their home inside it. While these scenarios might seem far-fetched, they are just a few surprising but very real discoveries made inside shopping carts at various merchant locations.
Here are ten absolutely shocking (and horrifying) things that have been found in shopping carts.
Related: Top 10 Creepiest Things Found in Attics
10

Winning Lottery Tickets and Prize Check

A trip to the grocery store turned out to be anything but ordinary for one couple in Cambridge, England, after discovering lottery tickets along with a winning check in a shopping cart.

Richard Haslop and his wife were at a Cambridge Tesco supermarket just after Christmas 2022 when his wife found six lottery tickets—both from the Euro Lotto and National lottery—alongside a $1,888 (£1500) check made out to Barry Levett in a shopping cart outside the store.

Thankfully, the Haslops had every intention of being Good Samaritans and initially tried to notify customer service regarding the find. However, due to the queue, the couple was unable to and decided to pursue Levett via social media. Therefore, Haslop posted about the prize discovery in several groups and local community message boards on Facebook before eventually being able to track down Levett.

However, when Haslop arrived at Levett's home, the elderly gentleman was convinced that the tickets and his winnings were still very much upstairs in his bedroom, safely by his bedside. When Haslop stated the tickets and check were in his van, Levett then went upstairs to verify. Naturally, Levett "came down about five minutes later, almost shaking and a bit scared" at the thought of the lost prize. Fortunately, Levett's fear was only short-lived as Haslop returned the tickets and prize money to him.[1]
9

Boa Constrictor

While the Target slogan is "Expect More. Pay Less.," the employees and customers at a Sioux City, Iowa, store certainly got much more than expected on August 12, 2023, when an exotic snake was discovered in the store. After a shopping cart was brought from the outdoor corral into the store, a 6-foot (1.8-meter) Columbian red-tailed boa constrictor was found curled up inside.

Lindsay Alvarez's daughter, who is an employee at the Sioux City Target store, made sure to take photos as proof of the surprising find and shared them with her mother, who later posted the picture on social media.

Animal control was contacted, and they removed the reptile from the property. The snake was later taken to the Sioux City Animal Adoption and Rescue Center, where it was named Targeé (pronounced Tar-Zhay)—an homage to the store where it was found.

While it is uncertain how the snake arrived at the store, authorities believe it may have slithered over from a nearby apartment complex, escaped from a car, or been left by someone.

Nonetheless, Sioux City laws prohibit constrictors from being kept as pets. Therefore, an owner would have seven days to claim the snake but would have to provide proof of ownership and be required to have an address to house the snake outside of city limits. Although the rescue waited one week, no one came forward to claim Targeé, and the snake was put up for adoption.

Thankfully, Dan Fogell, a herpetologist and professor from Lincoln, Nebraska, stepped up and agreed to give the reptile a new home at the Southeast Community College, where Targeé will be used for educational purposes in the classroom.[2]
8

Dead Body

On March 12, 2023, police in Chico, California, received a call regarding a body wrapped in a white plastic sheet inside a shopping cart near the entrance of a FoodMaxx grocery store.

During the investigation, police obtained security footage from the store, which revealed a man, later identified as 48-year-old Timothy Wiechert, rolling the cart inside the store around 6:20 am on March 10, 2023, and leaving it near the store's restrooms. A store employee later moved the cart outside the front entrance, where it sat unmoved for two days until a customer in a wheelchair needed it moved in order for her to enter the store.

It wasn't until around 4:30 pm on March 12, 2023, that a security guard spotted the cart and called 911 after discovering a body inside, which was later identified as 61-year-old David Niles.

Wiechert had been arrested earlier that morning and was already in jail on attempted murder charges after a woman came home to find a truck parked in her driveway and Wiechert strangling a woman on the ground.

The truck, which belonged to Niles, had a "good deal of blood" in the camper shell and was impounded for further forensic processing. On March 20, 2023, Wiechert was charged with Niles's murder and a probation violation, given that he had cut off his ankle monitor in retaliation to a prior arson conviction.

The District Attorney believed the two cases were related given that the 28-year-old woman, Niles, and Wiechert were all reportedly homeless and living in the area near the FoodMaxx where both incidents occurred.[3]
9

Razor Blade

What may have begun as a typical shopping trip at Walmart ended with a hospital visit for one woman in Cedar Park, Texas.

On November 13, 2019, Silver Taylor was on a "usual errand trip" at her local Walmart, but as she was standing in line at the pharmacy, two customers advised that her hands were bleeding. At one point, Taylor fainted and hit her head due to the blood loss.

Paramedics were called to the scene, and that's when they discovered a razor blade lodged inside the shopping cart handle. Unfortunately, the blade was facing inward and out of Taylor's range of vision. Taylor was taken to a local hospital and evaluated to make sure she had no internal bleeding. She did, however, suffer three large, deep lacerations to her right hand and one minor laceration to her left hand, which were treated and then heavily bandaged.

Police opened an investigation to determine whether the incident was intentional or accidental. However, Taylor went on to file a lawsuit against Walmart for premise liability and negligence.[4]
6

Newborn Baby

On the evening of June 5, 2017, a pedestrian was walking through the parking lot of a Food City grocery store in Tempe, Arizona, when they made a disturbing discovery within one of the store's shopping carts—a newborn baby girl wrapped in a blanket and placed inside of a small black and pink Jonas Brothers backpack.

The passerby notified a store manager, who then contacted the police. The baby, who still had part of her umbilical cord attached, was believed to have been born one to three hours before she was abandoned just 50 feet (15 meters) from a Safe Haven location. The Arizona Safe Haven Law was enacted in 2001 and allows a person to physically hand off an unharmed newborn baby within 72 hours at various Safe Haven locations, no questions asked.

While the temperature was between 103°F and 104°F (39-40°C) on the evening the newborn was discovered, she was miraculously found to be in good health after being taken to a local hospital.

Tempe police sought help from the public in hopes of finding someone who might have information on the newborn's identity, the identity of her parents, or information pertaining to the backpack. However, the baby girl was later placed in foster care.[5]
5

Two Thousand Dollars in Cash

Army veteran Robert Sneed and his toddler daughter went on a typical evening shopping trip to their local Walmart in Gallipolis, Ohio, to get groceries in June 2023.

However, when Sneed pulled a shopping cart from the corral, he noticed what looked like a piece of paper. Assuming it was someone's shopping list, Sneed got ready to throw it away. Sneed then noticed that the "paper" felt a little heavy and later realized it was actually an envelope.

Inside the envelope was a banking receipt and some one hundred dollar bills—$2,000 in total. Thankfully, Sneed didn't hesitate to do the right thing.

Sneed initially planned to take the cash back into the Ohio Valley Bank inside the Walmart store where the withdrawal was made, but unfortunately, given the time, he knew the bank was already closed. He then asked a door greeter to go with him and find a store manager. Sneed gave the envelope to a manager, got his groceries, and then headed home.

In an additional attempt to make sure the money made its way back to the rightful owner, Sneed made a post on Facebook regarding the found money. Thanks to Sneed's honesty, a Walmart spokesperson later confirmed that the money was picked up by the owner later that night.[6]
4

Mouse in a Bread Bag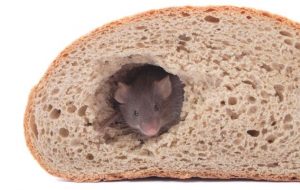 If you have children, you may have experienced the shock of getting to the checkout line only to discover that you have a few unexpected items in your cart that were placed inside without your knowledge. Unfortunately, one woman in Hamilton, Ontario, got quite the shock when she discovered a rodent among her groceries.
On November 6, 2018, Michelle Hill was shopping at the Franco's No Frills grocery chain. However, upon reaching the cashier, Hill went to place a loaf of D'Italiano bread from her cart onto the belt but discovered a live mouse inside the bag, "munching on a slice of bread."
Naturally, being both "shocked and disgusted," Hill asked the store staff to "grab the bread." The customer in front of her eventually whisked the bread away, but not before Hill made sure to snap a photo of the gross find. She then shared the photo on Facebook along with a warning to other customers.
On November 7, 2018, Hamilton Public Health Services sent an inspector to the store but found the chain to be in compliance with regulations.
Loblaw Companies Ltd., which owns No Frills, issued an apology and stated the store would be "working with a third-party pest control team to inspect bakery items daily" and that they were "working with their supplier closely to determine the source." Weston Foods, the company that owns the D'Italiano bread brand, also reached out to Hill to personally apologize and offer her a $50 Visa gift card.[7]
3

Meth and Other Illicit Drugs

In April 2023, deputies were called to an H-E-B grocery store in Spring, Texas, about lost property.

While one might assume the lost property to be something such as a purse or wallet, cellphone, or car keys, this particular call was in reference to some rather unusual "property" that was left behind.

When officers arrived, they found 85 grams of methamphetamine, 60 grams of Xanax (a medication used to treat anxiety and panic disorders), Adderall (a medication used to treat ADHD and narcolepsy), and Gabapentin (a seizure medication) that had been left behind in a shopping cart.

Therefore, in a bit of "harmless criminal trolling," the Harris County Constable's Office went on to post about the find on the department's Facebook page, stating whoever lost their drugs could stop by their office to "claim your lost property." There is no indication that someone took them up on their announcement.[8]
2

Box of Ashes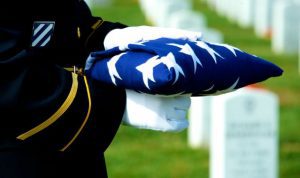 In September 2015, officials found a box of ashes in a shopping cart at a local Walmart in Kilgore, Texas.
After the discovery, Officer Angela Burch, a property and evidence officer for the Kilgore Police Department, began an investigation to discover who the remains belonged to. The investigation revealed that the ashes belonged to U.S. Marine Donald Krell, a Korean War veteran. Krell was supposed to be buried in Van Zandt County, but unfortunately, his ashes never made it there and had been missing for years.
Once the remains were identified, Burch spent a year attempting to locate Krell's family and friends to ensure he was honored and received a proper burial. She was finally able to track down Krell's daughter, who lived in England and got permission for Krell to be buried locally.
Burch then obtained Krell's death certificate through family members and "worked until the city of Kilgore donated a cemetery plot at Kilgore Memorial Cemetary for Mr. Krell's remains." On Veteran's Day in 2016, Krell was finally laid to rest with police officers and other veterans in attendance.
Officer Burch later received an Achievement Award for her "selfless and caring" efforts in securing a proper burial for Krell.[9]
1

Gun Wrapped in More Than Ten Thousand Dollars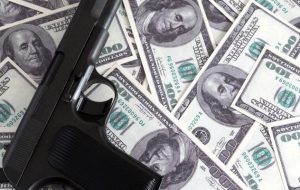 On July 11, 2017, 22-year-old Omar Allen, 25-year-old Kimoy McDonald, and 27-year-old Jovoni Coombs attempted to purchase approximately $80 worth of groceries from a Fairway Market in Stamford, Connecticut. However, after their card was declined several times, the group decided to leave the store.
Unbeknownst to them, upon leaving, they left behind a plastic bag in their shopping cart, which contained a gun wrapped in more than $10,000 in cash. Upon realizing their mistake, the group returned to the store looking for the bag, stating that they left a phone inside. Unfortunately for them, it was too late because after a store clerk spotted the gun, a manager contacted the police.
While it was uncertain what the group had planned, all three men were taken into custody. Allen was charged with criminal possession of a pistol or revolver, carrying a pistol without a permit, and reckless endangerment. McDonald and Coombs were each charged with reckless endangerment.[10]