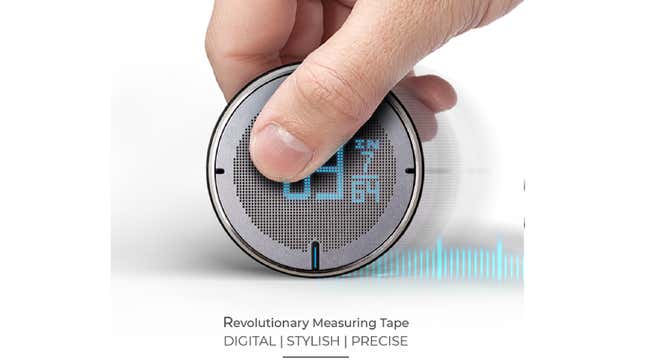 The ROLLOVA V2.0 Designer Limited Edition is a smart replacement for other measurement tools like a tape measure. It has a long standby battery life (up to 18,000 hours) and is compatible with multiple units of measure, and it costs $98.99. You just roll it across the surface you want to measure.
You can save your measurement in one of the 99 measurement slots, or you can delete it. It also has an offset function that allows you to measure corners that the device itself can't fit into—you just push it to the edge of the wall, and the tool will add its own diameter onto the measurement.
Measurements are visible on the OLED screen that is partially protected by a metal screen. It has a maximum single-measurement distance of 10 meters, so you may need to take long measurements in stages.
Batteries aren't included, but the ROLLOVA only needs one CR1632 Button Battery. You can install a total of two to increase the overall battery life.
You can get the ROLLOVA V2.0 Digital Rolling Tape Measure (Designer Limited Edition) for $98.99, though prices can change at any time.
ROLLOVA 2 0 Video User Manual