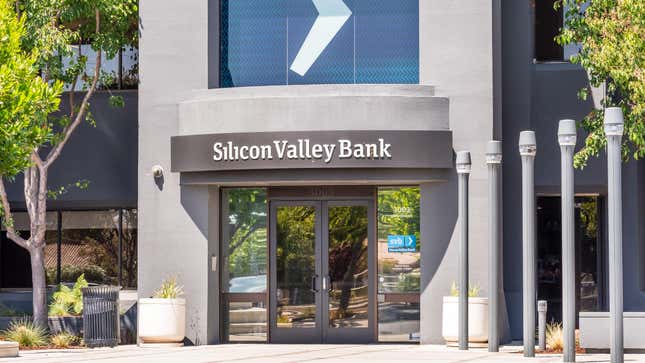 The collapses of Silicon Valley Bank (SVB) and Signature Bank earlier this month were the second- and third-biggest bank failures in U.S. history. While those institutions catered mostly to the tech industry, it's natural to feel a sense of unease. The question on many bank customers' minds: Is my money safe?
Should you be worried about cash stored in your bank? Here's what you need to know to give you some peace of mind about how your money is doing in the bank.
Is my money safe?
The short answer: Yes.
The Federal Deposit Insurance Corporation (FDIC) guarantees deposits on accounts up to $250,000, and nearly all banks are FDIC insured. Credit unions are insured by the National Credit Union Administration.
If you do have over $250,000 in individual accounts at one bank, any amount over $250,000 is considered uninsured. Even without the threat of banks failing, though, it makes sense to invest that much money in a different financial institution.
Luckily (in this case, at least), the majority of us don't have over $250,000 in liquid assets. That means we're covered by the $128 billion Deposit Insurance Fund, which CBS reports is "fully sufficient" to keep insuring your funds.
Still, bank collapses add a sense of unease to an already shaky economy. Here are some things within your control that you can keep in mind:
Look for the FDIC logo at bank teller windows or on the entrance to your bank branch.
Check out the FDIC's

bank suite

for a list of FDIC-insured banking institutions.
Use the FDIC's

Electronic Deposit Insurance Estimator

to calculate the insurance coverage of different deposit accounts at banks.
Be aware of where your money is held, and how much you have in each account.
If you have over $250,000 in the bank, you could split up your funds into different FDIC-insured accounts.
As an individual customer, it's nearly impossible to predict that your bank is failing. What you can do is start a Google alert for your bank in case there are news stories about it, and keep an eye on the stock price.
The bottom line, though: If you have less than $250,000 in your account at an FDIC-insured U.S. bank, you don't need to live in a constant state of panic.