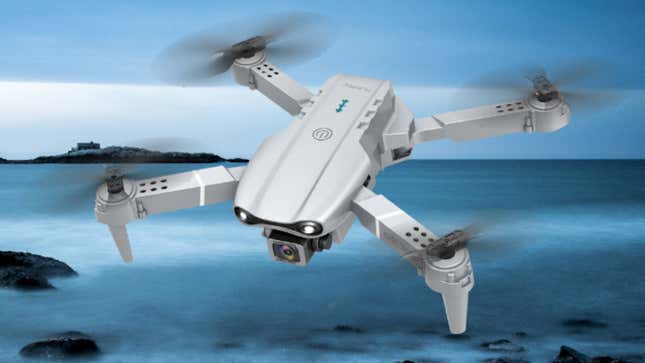 The Alpha Z PRO 4K Ultra HD dual-camera drone and the Flying Fox 4K wide-angle dual-camera drone are on sale for $109.97 right now (reg. $398) through September 30. And if two drones seem excessive, you can give one to a friend and have an instant drone buddy, or stash one away for a holiday gift.
The two drones are a little different from each other, but they have many features in common. Their dual-camera design includes a 4K wide-angle front camera with 90-degree adjustment and a 720p bottom camera to capture perspectives from above. They also have wifi connectivity and real-time transmission of photos and videos through their app. There's an Altitude Hold mode, as well as a One-Key Automatic return for the drone to automatically find its way back to where it started. The 4-Channel mode allows you to ascend, descend, go forward and back, left, right, and roll 360 degrees. The only difference in capabilities is that the Flying Fox has gesture control and a follow function, and the Flying Fox flies for up to 12 minutes, whereas the Alpha Z flies for up to nine minutes.
If you ever wanted to try droning, the Alpha Z PRO 4K and Flying Fox 4K wide-angle dual-camera drones are on sale for $109.97 right now until September 30 at 11:59 p.m. PT, though prices can change at any time.
Ninja Dragon Alpha Z PRO 4K Camera Drone