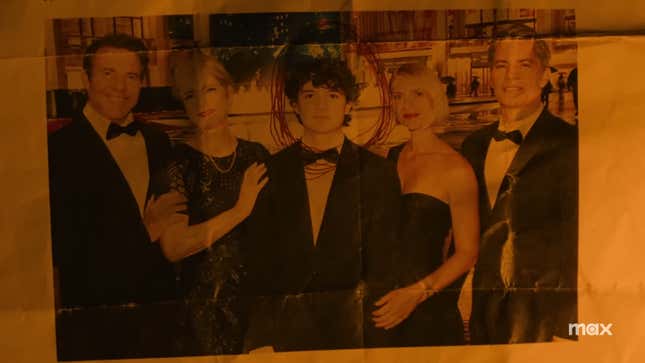 I realize I am in an unusual position saying this, given that I have spent the last three years writing monthly columns on the comings and goings to the streaming service formerly known as HBO Max, but it's sad to see how far it has fallen. For a streamer that once produced a ton of weird and engaging original content, it has become a random pile of reality shows and low-cost imports, without much to recommend (especially between seasons of bankable HBO shows like The Last of Us).
In July, for example, there are only a handful of notable Max Originals on offer—though at least one of them is the welcome return of the crass animated superhero show Harley Quinn, returning for a fourth season on July 27 even after Warner Bros. Discovery canceled most of its other comic book content. It's not for everyone (by which I mean it's definitely not for kids), but it embraces the insanity of its villainous main character with violent glee. There's no trailer yet, but here's a taste of what you're in for:
Harley Quinn Season 3 Funniest Moments
I'm also intrigued by Full Circle (July 14), which I just learned existed and am suddenly invested in. Created by Ed Solomon (the Bill & Ted movies, Men in Black) and director Steven Soderbergh, it has an intriguing but vague synopsis ("An investigation into a botched kidnapping uncovers long-held secrets connecting multiple characters and cultures in present-day New York City") and a killer cast, including Claire Danes, Timothy Olyphant, Dennis Quaid, CCH Pounder, and Zazie Beats. At least this one has a trailer!
Full Circle | Official Teaser | Max
Here's everything else coming to (and leaving) Max in July. Slim pickings, if you ask me. (Unless you like whatever 90 Day Fiancee is; there's a lot of that.)
What's coming to Max in July 2023
Arriving July 1
300 (2006)
17 Again (2009)
20th Century Women (2016)
A Life Less Ordinary (1997)
A Walk in the Woods (2015)
American Sniper (2014)
Angels Sing (2013)
Ballet 422 (2014)
Barbershop (2002)
Barbershop 2: Back in Business (2004)
Beauty Shop (2005)
Because of Winn-Dixie (2005)
Brandi Carlile: In the Canyon Haze – Live From Laurel Canyon (2023), HBO Original
Bullitt (1968)
Caddyshack (1980)
Clash of the Titans (1981)
Compliance (2012)
Cujo (1983)
Cunningham (2019)
Deep Blue Sea (1999)
Detour (2017)
Double Impact (1991)
Dracula II: Ascension (2003)
Dunkirk (2017)
Election (1999)
Elizabethtown (2005)
Far From the Madding Crowd (2015)
Fast Color (2018)
Flawless (2008)
Ghosts of Girlfriends Past (2009)
Ghosts of Mississippi (1996)
Girl Happy (1965)
Going in Style (1979)
Good Will Hunting (1997)
Goodbye, Mr. Chips (1969)
Headhunters (2012)
Horrible Bosses (2011)
Hotel Artemis (2018)
Immortals (2011)
Jonah Hex (2010)
Journey 2: The Mysterious Island (2012)
Journey to the Center of the Earth (2008)
King Kong (1933)
Klute (1971)
Lakeview Terrace (2008)
Lethal Weapon (1987)
Lethal Weapon 2 (1989)
Lethal Weapon 3 (1992)
Lethal Weapon 4 (1998)
Mad Max 2: The Road Warrior (1982)
Mad Max Beyond Thunderdome (1985)
The Meg (2018)
Monsters and Men (2018)
Mortal Kombat (1995)
Nancy Drew (2007)
Nancy Drew and the Hidden Staircase (2019)
Nico, 1988 (2018)
Nights In Rodanthe (2008)
Poseidon (2006)
Prince Avalanche (2013)
Pulp Fiction (1994)
Rampage (2018)
Rush Hour (1998)
Rush Hour 2 (2001)
Rush Hour 3 (2007)
Serendipity (2001)
Shakespeare in Love (1998)
Shirley (2020)
Shoplifters (2018)
Southside with You (2016)
Steel (1997)
Sydney White (2007)
Teen Witch (1989)
Teenage Mutant Ninja Turtles (1990)
Teenage Mutant Ninja Turtles II: The Secret of the Ooze (1991)
Teenage Mutant Ninja Turtles III (1993)
Temptation: Confessions of a Marriage Counselor (2013)
Tenacious D in the Pick of Destiny (2006)
Tequila Sunrise (1988)
The Animatrix (2003)
The Blind Side (2009)
The Descent (2006)
The Descent: Part II (2009)
The Delta Force (1986)
The Frozen Ground (2013)
The Good Heart (2010)
The Perfect Storm (2000)
The Second Best Exotic Marigold Hotel (2015)
The Skeleton Twins (2014)
Thirteen Ghosts (2001)
TMNT (2007)
Transformers: Revenge of the Fallen (2009)
True Story (2015)
Tyrel (2018)
Under the Cherry Moon (1986)
Under the Silver Lake (2018)
V for Vendetta (2005)
Wes Craven Presents: Dracula 2000 (2000)
Wes Craven Presents: Dracula III: Legacy (2005)
What A Girl Wants (2003)
Where the Wild Things Are (2009)
Yogi Bear (Movie, 2010)
Arriving July 3
Married to Evil, Season 1, ID
Arriving July 4
90 Day Fiancé: Love in Paradise: Pillow Talk, Season 3, TLC
Batwheels, Season 1F
El Jardin de Bronce, Season 3, HBO
Arriving July 6
Barnwood Builders, Season 16, Magnolia Network
Shaun White: The Last Run (2023), Max Original
Arriving July 7
Ed Stafford: First Man Out, Season 3A, Discovery
My Adventures with Superman, Season 1
The Plot Thickens, Season 4
Wanted: Millionaire (Se busca millonario), Max Original
Arriving July 8
Capturing Home, Season 2, Magnolia Network
Arriving July 9
Last Call: When A Serial Killer Stalked Queer New York, HBO Original
Paranormal Caught on Camera, Season 6, Travel Channel
Arriving July 10
90 Day Fiancé: The Other Way, Season 5, TLC
BBQ Brawl, Season 4, Food Network
Flip the Strip, Season 1, HGTV
Lil Jon Wants To Do What?, Season 2, HGTV
People Magazine Investigates, Season 7, ID
Arriving July11
Craig of the Creek, Season 5A
High Speed Chase, Season 1, ID
Outdaughtered, Season 6, TLC
Arriving July 13
Eli Roth Presents: A Ghost Ruined My Life, Season 2, Travel Channel
Full Circle, Max Original
Gray Matter (2023)
Project Greenlight (Reboot), Season 1, Max Original
Arriving July 14
La Narcosatanica, HBO
Time Zone (2023), Max Original
Arriving July 15
A Scent of Time (2023), Max Original
American Masters (2023)
Arriving July 16
90 Day Fiancé: UK, Season 1, Discovery
Barbie Dreamhouse Challenge, HGTV
Arriving July 17
Naked and Afraid: Last One Standing, Season 1, Discovery
Arriving July 19
Contraband: Seized at the Border, Season 1, Discovery
Arriving July 20
Body in the Basement, Season 1, ID
Glitch: The Rise and Fall of HQ Trivia (2023), Max Original
My Magic Closet (Além do Guarda-Roupa) (2023), Max Original
Arriving July 21
La Unidad, Season 3
Making Modern with Brooke and Brice, Season 3, Magnolia Network
Arriving July 23
Unsellable Houses, Season 4, HGTV
Arriving July 24
The Golden Boy (2023), HBO Original
Justice League x RWBY: Super Heroes & Huntsmen Part One (2023)
Arriving July 25
Windy City Rehab: Alison's Dream Home, Season 1, HGTV
Arriving July 26
After the Bite (2023), HBO Original
Arriving July 27
Harley Quinn, Season 4, Max Original
Looney Tunes Cartoons, Season 6, Max Original
Teenage Euthanasia, Season 2
Arriving July 28
Gotham Knights (2023)
How To with John Wilson, Season 3, HBO Original
Restored, Season 6, Magnolia Network
Superman & Lois, Season 3
Arriving July 29
August: Osage County (2013)
Arriving July 30
Metal Monsters: The Righteous Redeemer, Max Original
Naked and Afraid: Castaways, Season 1, Discovery
Arriving July 31
Mother May I Murder?, Season 1, ID
Survive the Raft, Season 1, Discovery
What's leaving Max in July 2023

Leaving July 6
Dr. Stone (2019, Subtitled)
Family Tree (2013)
Leaving July 7
Leaving July 9
The Problem with Apu (2017)
Leaving July 10
Leaving July 12
Leaving July 25
Leaving July 27
Leaving July 28
Milestone Generations (2022)
Leaving July 31
50 First Dates (2004)
American Sniper (2014)
Back to School (1986)
Barely Lethal (2015)
Belle (2013)
Black Butterfly (2017)
The Blind Side (2009)
Bottle Rocket (1996)
The Brothers Bloom (2008)
The Captive (2014)
Casino Royale (2006)
Casualties of War (1989)
Catch Me If You Can (2002)
Children of a Lesser God (1986)
Class Act (1992)
Conspiracy Theory (1997)
A Dangerous Method (2011)
Dark Places (2015)
Dave (1993)
Dear Evan Hansen (2021)
Death Warrant (1990)
Deep Cover (1992)
Diamonds are Forever (1971)
Dolphin Tale (2011)
Donnie Darko (2001)
Dr. No (1962)
Dr. Seuss' How the Grinch Stole Christmas (2000)
The Dreamers (2003)
Drive Angry (2011)
Drop Dead Gorgeous (1999)
Eat Pray Love (2010)
Edge of Darkness (2010)
The End of the Tour (2015)
Enemy (2014)
Everything You Always Wanted to Know About Sex But Were Too Afraid To Ask (1972)
Fame (1980)
The Fault in Our Stars (2014)
Fighting (2009)
The First Wives Club (1996)
Force Majeure (2014)
GoldenEye (1995)
Gossip (2000)
The Great Escape (1963)
Gremlins (Movie, 1984)
Gremlins 2: The New Batch (1990)
Hellboy (2019)
Hoodlum (1997)
How I Live Now (2013)
I Heart Huckabees (2004)
Jeremiah Johnson (1972)
Kill the Irishman (2011)
Kung Fu Panda (2008)
The Last Face (2016)
The Last Word (2017)
The Leisure Seeker (2017)
Little Shop of Horrors (1986)
The Living Daylights (1987)
Locke (2013)
Long Shot (2019)
Man of the Year (2006)
The Man with the Golden Gun (1974)
A Midsummer Night's Sex Comedy (1982)
Mimic (1997)
Mimic 2 (2001)
Mimic 3: Sentinel (2003)
The Miracle Worker (1962)
Mississippi Grind (2015)
Mojave (2015)
Moonraker (1979)
My Big Fat Greek Wedding 2 (2016)
My Dream is Yours (1949)
National Lampoon's European Vacation (1985)
National Lampoon's Vacation (1983)
Never Die Alone (2004)
Next Day Air (2009)
The Nun's Story (1959)
Objective, Burma! (1945)
Octopussy (1983)
Old (2021)
On Moonlight Bay (1951)
The One (2001)
Operation Crossbow (1965)
Osmosis Jones (2001)
Person to Person (2017)
Piranha 3D (2010)
Piranha 3DD (2012)
Planet 51 (2009)
Precious Cargo (2016)
Quantum of Solace (2008)
Red (2008)
Red 2 (2013)
Reefa (2021)
Regression (2015)
Rememory (2017)
Return to House on Haunted Hill (2007)
Revenge of the Green Dragons (2014)
Shallow Grave (1994)
Shark Night 3D (2011)
The Spiderwick Chronicles (2008)
Stardust (2007)
Street Fighter: The Legend of Chun-Li (2009)
Sunday in New York (1963)
Suspect Zero (2004)
Take This Waltz (2011)
A Thousand Words (2012)
Thunderball (1965)
Thunderstruck (2012)
Three Amigos! (1986)
Tomorrow Never Dies (1997)
Trouble with the Curve (2012)
Tusk (2014)
Vendetta (2015)
War of the Worlds (2005)
Where the Wild Things Are (2009)
White Bird in a Blizzard (2014)
The Wife (2018)
Wolves at the Door (2016)
Woodstock: The Director's Cut (1970)
The World According to Garp (1982)
Yesterday (2005)
You Only Live Twice (1967)