Hydroponics used to be a nerdy hobby for homesteaders and home pot growers. What was once required a complicated setup that resulted in absurd-looking home laboratories has now been commoditized into sleek, modern towers of plastic for your home. But are commercially produced hydroponic gardening towers actually a good way to grow your own food?
How hydroponic gardening towers work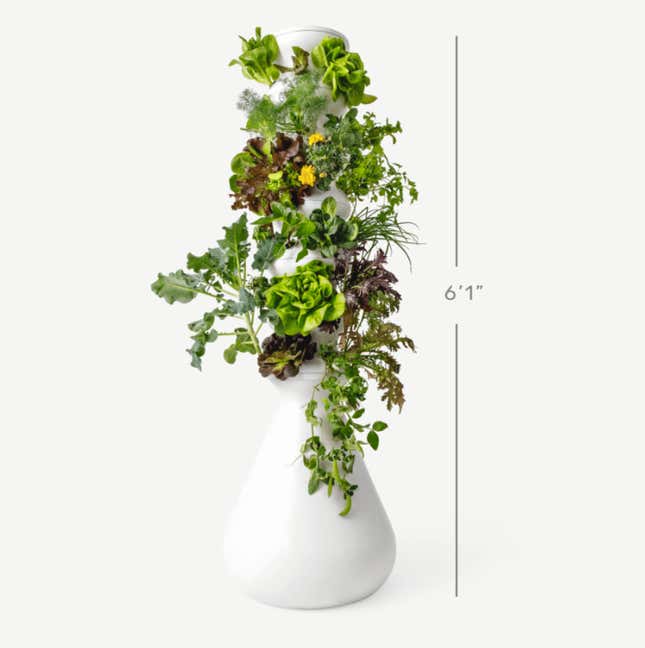 The main players in this arena are Lettuce Grow, which sells a singular, bulbous structure formed of cascading rings; and Gardyn, which favors a series of narrow cylinders. For the most part, the products work the same way: a tank at the bottom holds water and nutrients (supplied by the company). Seeds or seedlings (also supplied by the company) sit in cups, placed either on the rings or the cylinders. The roots of those plants dangle freely underneath the cup. Water is circulated from the tank to the top of the structure and then runs down the inside, so there is a constant flow over the dangling roots. The plants grow up and out of the cups, resulting in a year-round garden that can be grown inside or outside, depending on weather conditions.
The selling point for both products is that anyone can grow their own food, no experience or research necessary. Though I'm an experienced gardener, the appeal of year-round cilantro is what got me. I was gifted a LettuceGrow by a friend who had never even opened the box, having decided they simply didn't have the bandwidth (this should have been a warning to me). I paid the shipping and was delighted by the huge box that appeared at my doorstep.
That was 18 months ago, and I've since tried both Lettuce Grow and Gardyn. Here's what I wish I'd known before I even got started.
The cost is significant
If you're trying to save money by growing your own food, these towers aren't the solution, but they should have worked for someone like me: I don't garden to save money. I often joke that I grow $30 tomatoes. That said, even I require a certain threshold of viability, and while a $30 tomato is tolerable (to me), a $300 tomato is not.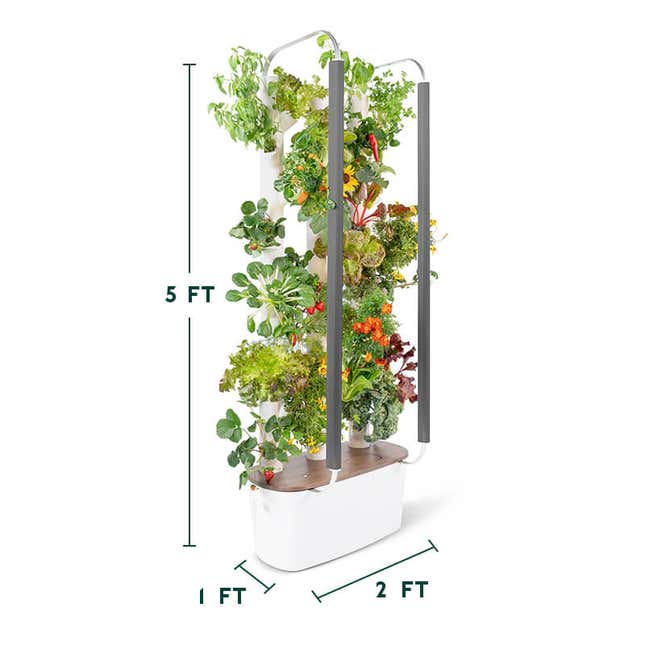 Looking solely at the startup costs, hydro towers are a heavy lift. The LettuceGrow is the less expensive option; with only twelve slots for plants and no grow lights, it starts at $399, and can climb as high $1,250 for a setup that can handle 36 plants and grow lights. (If you're growing inside, you'll absolutely need grow lights, so you should budget for them if you go with the LettuceGrow). Gardyn, which hold 30 plants and comes with lights, is $999. Both companies have frequent promotions that will cut those prices by $50–$200.
Paid membership programs might not be worth it
Both towers come with optional memberships that offer different benefits. Lettuce Grow offers Plant Perks, a free buyer reward program where you accrue points toward accessories and plants by…buying accessories and plants. Gardyn has a $30–$40/month membership program that includes credits for new plants, discounts, as well as access to an AI assistant named Kelby who can analyze your tower, give you advice, and keep an eye on your plants when you turn on something called "vacation mode," which promises to somehow neither kill nor grow your plants, but to magically keep them in a sort of stasis, awaiting your return.
A great place to look for feedback on the towers are Facebook groups dedicated to each of them; these are run by customers, rather than the companies themselves. (In the company sponsored groups, critical comments seem to routinely disappear.)
While Kelby seems to be part of the selling package for newbie gardeners who lack confidence, it seems within a year most Gardyn devotees prefer to turn the AI off and go it on their own. Vacation Mode seems to simply reduce the time the growlights are on and the amount of nutrients they are being fed, and a comment in the forums suggests it might not be worth the monthly cost:
"I recently had an unexpected 3 week hospital stay. I have 2 Gardyns. One has a membership, one doesn't. On day 2, one of them went on vacation mode, the other was on normal mode. After 2 weeks both units were low on water and I had someone go in and just fill with water (I didn't have them add food). At 3 weeks when I got home, they were in the same, overgrown, some things dead condition." -Facebook user
The cost of electricity, nutrients, plants, and accessories adds up
While the electrical costs are surprisingly low for a device running 24/7—I estimated $10 a month for one tower—that's significant if cost-savings are your goal. Moreover, the heat coming off of the towers was more intense than I expected. It drew enough electricity that I couldn't run my space heater and tower on the same circuit, which would have been fine if it was warm enough, but it wasn't. I had to relocate the tower to my office.
As with almost any gadget, the real money isn't in the thing itself, but in the stuff that service the thing. With hydroponics, the money is in the nutrients, parts, and plants, specifically.
Your tank needs nutrients, and though your tank comes with some to start, you'll need more in time. You'll also need the plants themselves, and if you buy them through either company, they're quite expensive—about $4 apiece, plus shipping, and according to customer feedback, it's a tossup whether you'll be happy with the condition the plants are in upon arrival.
An entire ecosystem of company-produced and Etsy–sourced accessories has also evolved, because while you should only grow "patio" plants that are cultivated for planters or pots, you'll still need to provide them with support as they grow out of the little pods.
In short, beyond the initial investment, you're in for at least a few hundred dollars each year unless you're a confident, savvy gardener who knows how to source things on the aftermarket. I grew my own starts using my own system, so I skipped the plants, and the seeds, and the seedling accessories. I also was able to find my own rockwool, nutrients, and PH tools on Amazon for far less, and I used a common DIY hack for the LettuceGrow grow lights that saved me hundreds of dollars. Are you up for all of that?
You have to worry about upkeep too
On any given day, Facebook forums for both towers are inundated with posts about pests. As a seasoned gardener, I expect this, because anytime you have standing water and plants, you'll have pests, but it seems to surprise a lot of new gardeners. From thrips, to aphids, to fruit flies, to ants, you're likely to eventually encounter some kind(s) of critters, and should be prepared with solutions: Neem Oil, mosquito dunks, hydrogen peroxide, or the nuclear option: the total reset.
Although the sales package for each of these towers aligns with the "set it and forget it" mentality, there's actually a lot more to it. You'll need to test your water and nutrients weekly, make manual adjustments for PH, plant specific nutrients, trellis any plants that need it, and ensure all plants have access to light.
Before I got started, I enjoyed the idea that unlike outdoor gardening, where most time is spent growing and only a limited time is spent harvesting, indoors I might enjoy a more year-round harvest, replacing plants in succession as needed. What actually happens is that you still spend lots of time growing, a limited amount of time harvesting, and you can't really succession plant because in between "seasons," you'll need to do the dreaded "full reset," which means emptying everything, scrubbing it out, and ensuring it's clean before you start again. This is not hard, but is cumbersome, time-consuming, and annoying.
As with any system, there are always going to be occasional issues, like clogged pumps, power outages, etc. One reason for clogged pumps is that the roots of some plants become really cumbersome and need trimming for the pump to function well. It's all a lot.
Consider, too, the dangers (and annoyances)
I was surprised by how many posts I saw about Lettuce Grow light rings burning out. Not going dead, but actually burning.
Lower light ring connector and power supply connector fried. We were home. Lights went out, wife smelled burnt plastic. I knew it was a junk design as an electrician but I figured what the heck, it's on a gfci. Wrong. The way the power supply is built, it won't necessarily pop a gfci outlet. -Facebook User
Not to be outdone, Gardyn has some similar issues—namely that the lid of their device that houses the pump and electrical system and has a tendency to get wet and die just outside warranty. The lid is $100, so it's an expensive part to replace.
The LettuceGrow seems to be more modular, so its easier to replace parts as needed or add on. The Gardyn is a singular unit, and harder to fix on your own. Also, Gardyn runs on wifi, which means that if your wifi goes down, no watering will take place.
Neither company gets high marks for customer service, with customers repeatedly noting in the forums how hard it is to get help when they experience problems.
Also worth considering: You'll really have to enjoy a constant sound of running water in your home. Kept in another room, it was less noisy, but I didn't enjoy it during the Zoom season of 2021.
Lastly, while I expected the systems would be big, I clearly did not really think about how big, particularly once they were filled with plants. Their respective footprints are something you'll need to work around, and they only look as advertised (pleasingly but not overwhelmingly spilling over with greenery) for a short time, while plants are young. In reality, they more often look overgrown or empty.
So are hydroponic towers worth it?
I lasted 12 months with my towers before I decided to DIY it instead. I didn't enjoy my dependency on the companies or the bulkiness of either system. That said, ultimately most people do seem to still enjoy having their towers, regardless of which company they went with. When asked, most members had gone beyond their initial purchase and picked up multiple towers. One person had ten running at once. Strawberries forever!
There is no doubt that commercial systems like Lettuce Grow and Gardyn are aesthetically more pleasing than my DIY setup (remember when I described them as "absurd-looking home laboratories"?). If appearances are a priority, it would make sense to invest in them as furniture, rather than as a viable system for saving money while growing food.
There's a lot to like about hydroponics, despite the workload. The plants are much cleaner, because they don't grow in dirt. The grow cycle seems to be much faster, because of the ideal conditions created by the grow lights and nutrients. It doesn't matter what the weather is like outside; so long as the power stays on, you can indeed grow inside all the year long.
It's just going to cost you.