Summertime is the three-month period in New York City when buying an entire melon is the same price (and sometimes cheaper) than buying a pint container of cut fruit. I don't have a car, so you'll see me walking home with two bags of innocent-looking groceries, and a very weighed-down looking backpack. I love melon. And in order to use every cube of the precious syrupy fruit, I make agua frescas.
Without fail, this simple drink allows me to make the most of melon season. I can leisurely snack on melon, and then I can cram the bulk of it into a drink before the fruit gets weird sitting in my fridge. The variety of flavors is only limited by your imagination, and at minimum you can make a spectacular agua fresca with just two or three ingredients: a couple cups of fruit, water, and optional sweetener.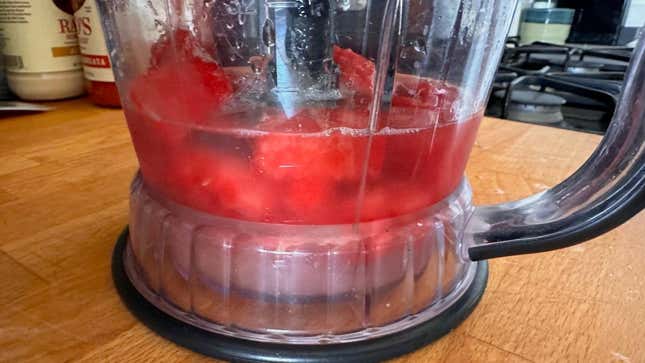 Agua fresca has origins in Mexico, but I have a feeling wherever melons are growing in abundance, blended fruit juice drinks like this are being made with their own refreshing titles. To make your own agua fresca, cut off the rind, deseed if necessary, and slice the fruit as usual. Add about two packed cups of fruit cubes to a blender, and a cup of water. You could stop here, blend the dickens out of it, and immediately enjoy a tall, refreshing glass of nature's candy. Or you can explore a little with sweetener and citrus.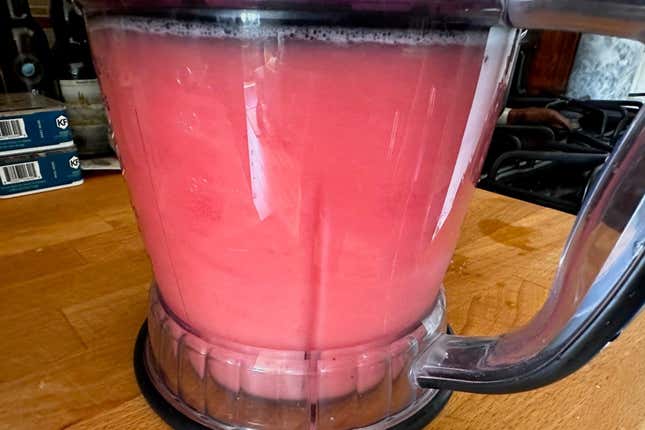 ---
Blenders that can take down any melon you throw at it:
---
This weekend I had a golden honeydew and a watermelon, so naturally both went into my drink. I blended one cup of each melon, one cup of water, the juice of one whole lime, and two teaspoons of honey. Then I sat down on my balcony and enjoyed a 15-minute vacation. You can pour your agua fresca over ice, but I'm one of those deviants that enjoys room temperature water. It's straight into the glass for me.
Melon is my go-to, but you can use pineapple, papaya, peaches, or cucumbers. Add a little bit of grated ginger, but there's no need to get carried away. I enjoy aqua fresca because it's the happy medium between a bougie cold-pressed juice and a loaded smoothie. There's no pretense of a perfectly smooth result. The consistency is juicy and pulpy, it separates over time, and that's perfect. Use your leftover fruit to explore the agua fresca. Maybe a little more water, or maple syrup will work for you. Try adding different fruits or adding a splash of mango nectar. Or go after it the way I do, wherein whatever melon is left over will be my aqua fresca del día.
Watermelon Agua Fresca
Ingredients:
2 cups cubed watermelon
1 cup cold water
Juice from 1 lime (don't mind the pulp that falls in)
2 teaspoons honey
Add all of the ingredients, except for the ice, to a blender. Blend until frothy and the melon has broken down as much as possible. Enjoy over ice or without.