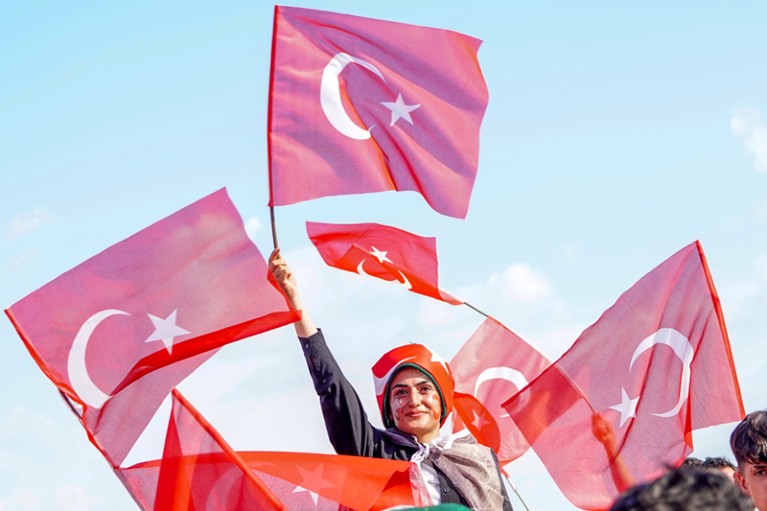 Researchers have told Nature they fear that the re-election of Turkish President Recep Tayyip Erdoğan will lead to more restrictions on academic freedom. His administration has sacked thousands of university staff members, appointed unelected university rectors and curbed academic freedom and university autonomy since it came to power 21 years ago.
Erdoğan, leader of the governing Justice and Development Party (AKP), defeated Kemal Kılıçdaroğlu of the opposition Nation Alliance by a margin of 52.1% to 47.9% in election results confirmed on 28 May. Independent observers from the Organization for Security and Co-operation in Europe said the election offered "genuine political alternatives" but gave "unjustified advantage to the incumbent".
"You won't hear much from Turkish universities in the next five years," says Yasemin Yalım, a founding member of the Turkish Bioethics Association who is based in Ankara. Many scientists and university teachers who had hoped for change in the May elections will now consider early retirement or migrating, she adds.
Before the election, the European University Association (EUA) had expressed its willingness to support and advise the future government on increasing the involvement of the university community in institutional decision-making. The EUA told Nature that if asked, its offer still stands. An EUA report published in March placed Turkey at the bottom of a scorecard for academic freedom in European countries and territories.
In 2016, Erdoğan's administration carried out one of the largest nationwide purges in Turkey's history, after an attempted military coup against it. More than 150,000 people lost their jobs, including over 8,500 university staff members.
Since 2018, rectors of public universities have been appointed or dismissed by the president without faculty elections. Turkish higher education is unique in Europe in that a university's leadership is not in the hands of the university itself, according to the EUA report.
Researchers worry that their voices will now be further silenced, especially on concerns such as safeguarding academic freedom and improving universities' autonomy.
Self-censorship
Since coming to power in 2002, the AKP has tightened the government's control over universities and research councils, for example by micro-managing university spending and senior appointments. Out of fear for their career progression, researchers tend to avoid teaching and research into the rights of Kurdish people, people from sexual and gender minorities (LGBT+), and the history of the 1915 Armenian genocide by the Ottoman Empire.
"The one-man way of ruling has permeated into all universities, even the most progressive ones," says Canan Atılgan, a biophysicist at Sabancı University in Istanbul.
Yalım used to teach bioethics at Ankara University but says she took early retirement in 2020 because of declining academic freedom. She says she was warned by academic colleagues to be careful after screening a short film for students depicting mistreatment of LGBT+ individuals in Turkey's health system. "I am an ethicist; I need to have freedom of speech. If I don't have it, there is no meaning of teaching. That's why I retired," says Yalım. In a 2020 survey of 365 academics , one-third reported censoring themselves in academic publications, teaching and professional gatherings.
Council of fear
Academics have repeatedly called for reforms to a government-run body called the Council of Higher Education (YÖK). Established after a military coup in 1981, YÖK approves teaching courses, decides who should be appointed to faculty positions and sets student numbers. "Institutional autonomy is something that's supposedly protected under Article 130 of the constitution. So, it's completely violated," says Esra Mungan, a psychologist at Boğaziçi University in Istanbul.
In December 2022, a group of academics submitted a report to members of Turkey's Parliament calling for YÖK to be replaced with a more supportive administrative body. The opposition alliance agreed to this recommendation, but the AKP made no such promise.
"It's not out of the ordinary for a higher-education system to have a buffer body or a regulator acting between the government and the education system," says Monika Steinel, the EUA's deputy secretary-general. But such bodies are expected to operate with fewer direct interventions on institutional issues and decisions, she adds. "Academic freedom is the basis for a researcher or a university teacher to do their job," says Steinel.
Political scientist Nebi Miş agrees that "systematic changes" are needed to Turkey's higher-education laws. Before the election, the AKP proposed to establish boards of trustees for public universities. "This is a step that will strengthen academic autonomy," says Miş, who is director of political studies at the SETA Foundation, a think tank based in Ankara with long-standing ties to the AKP government.
However, Mungan is not confident that these boards will protect academic autonomy, given the AKP government's previous history. "There's absolutely no chance that any oppositional figures like the ones who voted against Erdoğan would be serving on these councils."
Nature contacted both Turkey's science council, TÜBİTAK, and YÖK. The science council said they were unavailable for an interview. YÖK did not respond to Nature's interview questions.
Stay and fight
Many researchers have left Turkey and others are expected to leave. But those to whom Nature spoke for this article say they are going to stay and fight for autonomy. They include Mungan, who spent 40 days in jail in 2016 for signing a petition condemning the Turkish government for attacking Kurdish provinces in southeastern Turkey.
Mungan has had offers to work abroad, but says she is not going anywhere. "I stayed in Turkey because we are millions, and [the election] showed that we are over 25 million that are not just against, but extremely against what is going on in our country."