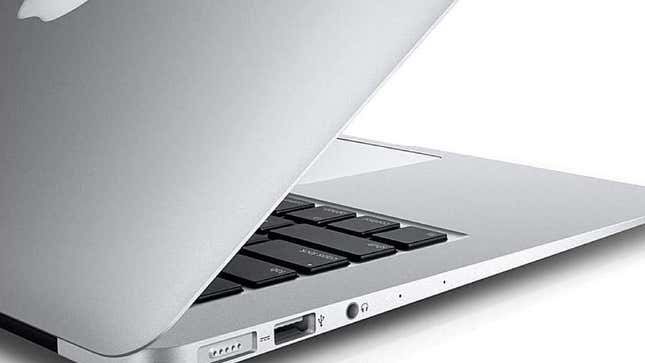 If you don't need the processing power of a brand-new laptop, refurbished computers are a good low-cost alternative. This refurbished Apple MacBook Air has a lengthy battery life, mid-range specs, and is on sale for $369.99 right now.
This 2017 MacBook Air has a "B" refurbished rating, which means it may have some light scuffing on the bevel or case and light scratches or dents on the body. None of the superficial signs of wear-and-tear should affect operation though, and the 13.3-inch screen is still clear and ready for work or streaming. It's a lightweight laptop suitable for everyday computing and office apps, and it features an Intel Core i5 processor, 8GB RAM, a 128GB solid-state drive, a 720p FaceTime HD camera, an SDXC card slot, two USB 3.0 ports, and one Thunderbolt 2.0 port. On a full charge, the battery can last up to 12 hours. And, of course, it comes with wifi and Bluetooth connectivity.
Right now, you can get it on sale for $369.99, though prices can change at any time.
Apple 13.3″ MacBook Air (Mid 2017) MQD32LL/A