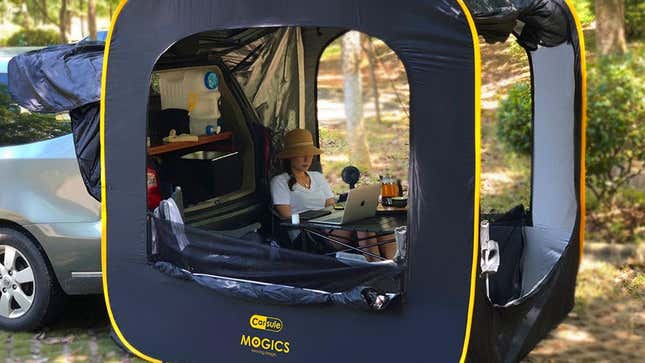 CARSULE is a camping cabin with two meters of standing room, and it connects to your car for easy trunk access. You can use a CARSULE for camping, tailgating, and things like that, and it's on sale right now for $319.99 (reg. $379).
The CARSULE got its start on Kickstarter where it raised $17,700. Setting up a CARSULE is fairly simple—just attach the anchor straps, magnetic cords, and adaptive car seal to connect it to your car.
CARSULE – A Pop-Up Cabin for your Car
Once it's set up, you can hang lightweight lighting from its tension ropes. The cabin also comes with a thick felt carpet to lay over the waterproof flooring. Mosquito netting is integrated, but you can still unzip windows or connect other cabins.
Before you buy a CARSULE, though, make sure it can actually attach to your car. These pop-up cabins are not compatible with all car types because they get some of their support from your car's back door, so your car needs to have a hatchback or other up-swinging tailgate. When it's time to pack up, the pop-up cabin fits in a compact carrying case.
For a limited time, you can get the CARSULE pop-op cabin on sale for $319.99 (though prices may change at any time).