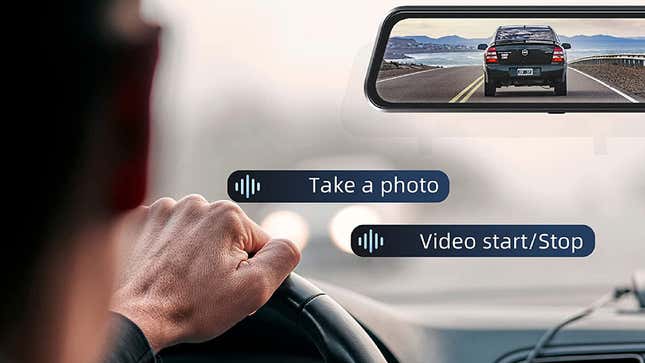 This kit includes a 10-inch touchscreen with a built-in dashcam that mounts to your rearview mirror, a backup camera, and all required installation materials, and it's on sale for $95.99 right now (reg. $120).
The backup camera installs on the rear exterior of your vehicle and needs to be wire-connected to the screen, but adding them to your car for under $100 can be worth the time and effort. You just mount the touchscreen, wire in the backup camera, and connect it to your car's lighter port for power. Then you can view live camera footage on the screen and control the cameras displays with a swipe or voice commands.
Volway 10″ 4K Mirror Dash Cam w/ Voice Control,
Each camera supports wide-angle, 4K images, as well as pictures and recordings. There's also a built-in G sensor to detect collisions, so the cameras automatically get footage of the incident. Other features include parking guidelines when you're in reverse and time-lapse recording when your car is parked. You can get this dash and backup cam kit on sale for $95.99 right now (reg. $120), though prices can change at any time.