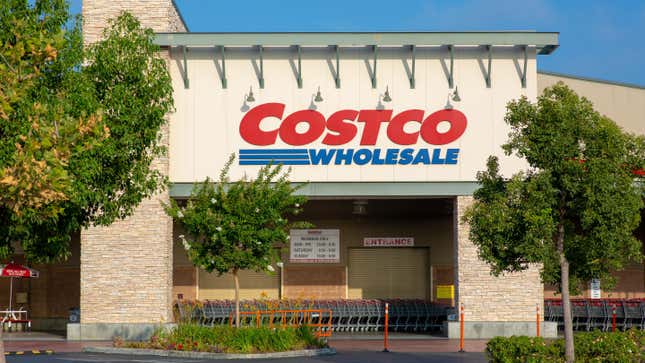 Costco and Groupon have partnered up to bring you a package deal for a Gold Star, one-year membership: Buy the $60 membership and get a $45 Digital Costco gift card, $40 off an order of $250 or more, and a promo code to receive a $100 Digital Costco gift card when you buy a vacation package of at least $2,500.
Here's what you need to know to get this deal.
Who's eligible for the Groupon Costco deal?
The deal is only valid for new members or those whose membership expired before March 31, 2023. This is for both the primary member holder and the household person who also used the membership. You cannot use the deal to renew your current existing membership. You must also be at least 18 years old.
What do you get with the Groupon deal?
The deal doesn't give you a discount on the Gold Star membership, which is usually $60. However, it does give you a lot of other perks that pay for the membership itself that are not usually included with it:
A $45 Digital Costco Shop Card valid at Costco locations and Costco.com. You can't use this at Costco gas stations, car washes, or food court kiosks.
$40 off an order of $250 or more (before tax and shipping) on Costco.com, which expires Oct. 31. Not valid at Costco warehouses and other restrictions that you can read

here

. Only one per person.
A Promo Code to receive a $100 Digital Costco Shop Card with the purchase of a vacation package of $2,500 or more with Costco Travel. You must travel through April 30, 2024 and book by Oct. 31, 2023. The credit will be emailed 10 days after your trip, and it has restrictions that you can read

here

.
---
Check out these Costco deals that can be delivered to yo—and non-members can buy too—(with the standard 5% surcharge):
---
You must buy the Groupon by Aug. 20. The Digital Costco Shop Card, Costco.com promo code and Costco Travel promo code will be emailed separately in two emails within one week of sign-up, and they expire on Oct. 31.
If you're undecided whether to sign up for Costco or a different retailer that sells in bulk, you can read Lifehacker senior finance writer Meredith Dietz's take about why Costco is the best option for your money.