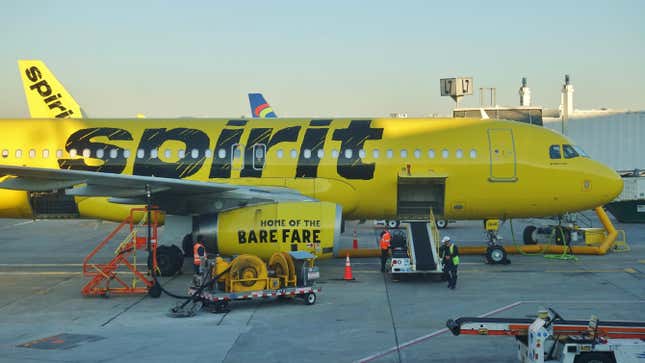 There was a time in the not-so-distant past when a standard coach airline ticket included checked and cabin baggage, seat selection, and even some type of meal or snack. But starting in the early 2000s, that began to change, and now 89% of the world's airlines hit consumers with one or more hidden fees, according to a new survey from NetVoucherCodes.
That said, some air carriers are worse than others when it comes to add-ons and unexpected charges. Here's what to know.
What are common airline hidden fees?
After analyzing their data, the team at NetVoucherCodes determined that seat selection fees were the most common hidden fees. Back in 2008, various airlines experimented with these extra charges as a additional revenue stream, and within a decade they were the norm, USA Today reported.
But choosing a window or aisle seat—or to sit with your family and friends—is only the beginning. It's also common for airlines to charge passengers extra to:
Sit toward the middle or front of the coach section
Sit in an exit row or other places with extra leg room
Check bags
Bring a carry-on bag
Board the plane before some of the other passengers
Get in-flight meals or snacks
Book their ticket over the phone
Rent a pillow, blanket, or headset
The airlines with the most hidden fees
The NetVoucherCodes survey includes data from 80 airlines from around the world, but we'll focus on those based in North America.
To come up with the rankings, the team added the various hidden fees from each airline, then determined the percentage difference between their hidden fees and base fare. "This allowed us to identify the airlines that imposed the highest hidden costs in relation to the initial ticket price," the authors of the report explain.
Here's how North American airlines fared:
Spirit Airlines: Hidden fees are 736% of flight cost
Frontier: Hidden fees are 376% of flight cost
Sun Country Airlines: Hidden fees are 201% of flight cost
Delta: Hidden fees are 158% of flight cost
JetBlue: Hidden fees are 147% of flight cost
United: Hidden fees are 122% of flight cost
Allegiant Air: Hidden fees are 107% of flight cost
Alaska Airlines: Hidden fees are 105% of flight cost
American Airlines: Hidden fees are 95% of flight cost
Aeroméxico: Hidden fees are 78% of flight cost
Check out the full survey and report for more information on these sneaky charges, and how international airlines stack up.