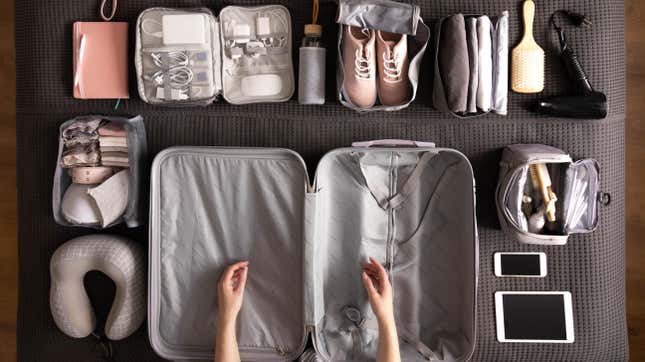 If you have travel plans on the horizon, good news: Prime Day is here to help you cut costs on all kinds of essential travel gear. The sheer number of deals can be overwhelming, so we've cut through the noise to find you the best travel deals so you can have a stress-free and organized trip.
Here are the travel must-haves that you should save on now, so you have more funds in your vacation budget later.
Luggage deals
With luggage, you don't want to skimp on durability just to save a few bucks. No amount of money is worth heaving your suitcase around the airport because one of the wheels broke.
Last week we shared the best luggage picks leading up to Prime Day. Now that the big day is here, there are even more high-quality deals to snag now:
Soft bags
Even if you don't have big travel plans this summer, this duffel is an affordable must-have for weekend trips, or even just gym day. Most importantly, the straps on this duffel can be adjusted to turn it into a backpack—perfect for a light hike, or for when your one shoulder has had enough.
And if you're looking for a basic, but versatile, backpack this Prime Day:
Headphones
Personally, I swear by Bose headphones when it comes to battery life and high-quality noise-cancellation. Yeah, I'm talking noise-cancellation that actually holds up against a baby crying on a plane.
Also worth noting, your classic 2nd Generation Apple AirPods have been marked down to just $89.99 from their usual $129.00.
Travel must-haves
You know you need a solid suitcase and strong headphones. Here are the travel must-haves you didn't know you needed.
GIN FOXI Portable Charger for iPhone

, $19.19 (was $29.99). This portable charger docks directly into your phone, with no need for a lightning cable. And when it comes to travel, the less wires you have flying around, the better

Gonex Compression Packing Cubes

, $19.99 (was $26.99). These cubes do exactly as advertised, compressing your stuff to make more room inside (and easily organize) your suitcase.

Dot & Dot Twist Memory Foam Travel Pillow

, $19.99 (was $39.99). Your standard wrap-around neck pillow has only ever caused me pain and strife. This twist memory foam travel pillow promises to mold into an actually comfortable position. Maybe now I'll achieve my lifelong dream of sleeping for but a minute on an overnight flight.