Deadheading–the practice of chopping off a spent flowerhead from the plant— has long been considered the way to keep plants blooming longer. It's based on the science that plants have a finite amount of energy, and spend it on one of three resources: growing, flowering or producing seeds. If you leave spent flowers on the plant, the plant will send energy into turning that flowerhead into seeds. If you'd prefer it spend the energy on more blooms, then hack the flowerheads off.
This theory isn't explicitly wrong, and there really is a chipper joy in parading around the garden like the Queen of Hearts chopping off dead daisy heads. However, there's some nuance to which plants benefit from deadheading—so some strategy around deadheading in order to get blooms will serve you well.
Not all flowers will continue blooming
Many flowers—zinnias, daisies, echinacea, roses, to name a few—can form many blooms over a season. Cutting off a bloom will likely result in more coming afterwards. However, many flowers are single-stem blooms, meaning they will form just the one bloom, and then shuffle off this mortal coil. If you cut that one bloom, you've committed an act of flower-adjacent homicide.
Flowers such as stock, tulips, daffodils, lilies, gladiolas, lupines, peonies, poppies and sunflowers fall into the "one and done" category. While some of these flowers are annuals, like sunflowers and stock, it's worth noting that the perennials among them (like lilies and tulips) can be harmed year over year by deadheading. For some of the plants, the stems and stalks provide necessary nutrients for the next flowering year, and cutting them off would render the plant unable to feed itself.
How you deadhead matters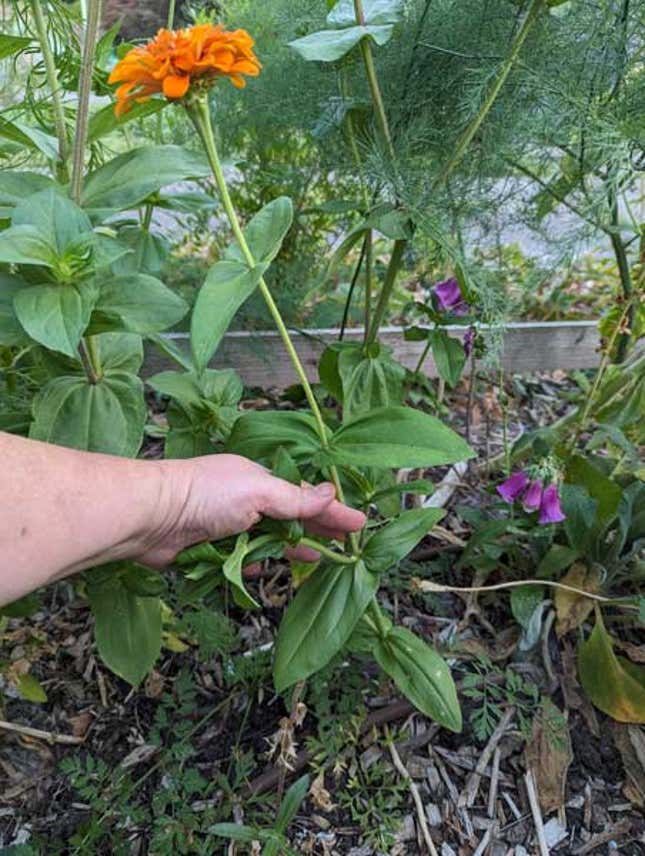 Which is to say, stop giving your flowers a bad haircut, leaving empty stems in your wake. What you really want to do is cut back the flower stem all the way down to the last set of nodes. Nodes are a branching-off of the stem. This encourages the plant to send up new stems from those nodes, creating a healthier plant, as each branch should develop its own flower. As you continue to do this, you achieve a much bushier, stronger plant with more flowers at the end. It's the working theory pot farmers have used forever.
Remember that your shears are a vector for virus and disease
As you waltz around the garden shearing and chopping, remember that the pruners you use can carry disease, fungus and virus from one plant to the next. The best way to ameliorate that is to always have a spray bottle of white vinegar with you—and spray your pruners between plants.