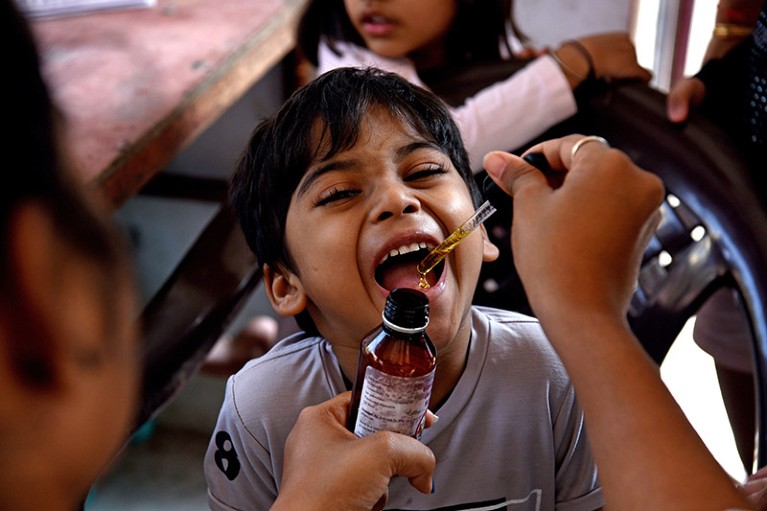 As health officials rush to control an outbreak of measles in India, scientists say the nation is set to miss its deadline of eliminating the disease by 2023. As of November, India had recorded 12,773 cases of measles this year, according to the World Health Organization, making it the largest outbreak in 2022.
Public-health researchers say that the revival of measles in India — mostly in four large cities — is happening because millions of children didn't get vaccinated in 2020, owing to the disruptions caused by the COVID-19 pandemic. On top of this, researchers say there has been persistently low coverage in routine immunizations of newborns for the past few years, which has contributed to the current outbreak.
"We are far away from [the 2023 goal]," says Anita Shet, a paediatric infectious-diseases specialist at the Johns Hopkins Bloomberg School of Public Health in Baltimore, Maryland, who studies vaccine-preventable diseases in India. "Now, it is a Herculean job to be able to catch up everyone who missed."
Children in India receive their first dose of the measles vaccine when they are 9 to 12 months old and a second dose at 15 to 18 months. Ninety-five percent of children need to have received both doses of the vaccine to achieve herd immunity, when enough people have antibodies against the virus to prevent the illness from spreading. Between 2019 and 2021, only 56% of children received the recommended two doses of the measles vaccine by the time they were 3 years old, according to the India's National Family Health Survey.
One year of low vaccination coverage is unlikely to result in such a large outbreak, says Manoj Murhekar, an epidemiologist at the Indian Council of Medical Research in Chennai. "It is basically a cumulative phenomenon."
Elimination goal
Before the pandemic, 11 nations in southeast Asia, including India, aimed to eliminate measles in their country by 2020. India ran a massive campaign between 2017 and 2019 to deliver immunizations, including the measles–rubella vaccine, to 410 million children below the age of 15. Doses were given to children irrespective of whether or not they had previously received the vaccine to ensure broad coverage. The government deemed the campaign a success, reporting that the number of fully immunized children increased by 6.7% in a year.
To test the success of that campaign, scientists at the Indian Council of Medical Research randomly selected 2,570 kids in districts targeted by the campaign and tested their blood for antibodies against measles, in 2018 and again in 2020. They found that vaccination coverage ranged from 74% to 94%, says Murhekar, the lead author of the study. "We found the population immunity substantially increased, but still, there were gaps," he says. For example, in the Kanpur Nagar district in Uttar Pradesh, immunity did not improve among children under 5 years of age, suggesting that the vaccine coverage remained low in that area, he says.
Pandemic disruption
When the pandemic began in 2020, some 2.6 million Indian infants missed their first dose of the measles vaccine. India shifted its self-imposed deadline to eliminate measles to 2023 and launched another vaccination campaign in 2021 called Intensified Mission Indradhanush 3.0, targeting unvaccinated children.
Again, officials hailed the campaign a success, with most states reporting high rates of coverage. But it was not enough to stave off the current outbreak. In Mumbai, which has had more than 400 reported cases and 8 fatalities this year, fewer than 65% of kids got their routine immunizations in 2022, Murhekar says. Official data suggests that 93% of unvaccinated children in Mumbai received supplementary vaccinations in 2021. But the coverage was probably lower, Murhekar says.
The current situation in India shows how challenging it is to vaccinate children in a country of 1.4 billion people. "India has 27 million babies being born every year," Shet says. "This whole [catch-up] would take a few years of very concerted, sincere effort from everywhere."
The health departments for Mumbai city and the state of Uttar Pradesh did not respond to Nature's questions about their immunization campaigns. And the nation's Ministry of Health and Family Welfare did not address queries about missing the 2023 deadline.
Tracking infections
Scientists say surveillance is key to finding outbreaks and launching immunization campaigns. Although the disease is monitored by health officials, the tracking system is not consistent everywhere in India and the absence of an outbreak does not mean that there's no problem, says Giridhar Babu, an epidemiologist at the Public Health Foundation of India, in Gurugram.
India's public-health system also tracks pregnant women — many of whom give birth at their parents' home — and their infants. But the system often loses track of them after a few months, says Babu. Consequently, there is a steep drop-off in vaccinations for measles–rubella after that point, he says.
India also has 450 million migrant workers, whose children can be missed by the tracking system, says Madhu Gupta, a public-health researcher at the PostGraduate Institute of Medical Education and Research in Chandigarh, India.
Vaccine hesitancy is also an issue in some communities, Babu says. These areas can be a breeding ground for outbreaks, adds Shet.
"For elimination, we need to have better coverage for full immunization for measles and rubella," Gupta says.