Leftover cornbread is a sad, dusty thing. It's hard to believe it could ever even be left over—the stuff is so exquisite when fresh—but Thanksgiving leads to leftover everything. Whether you made too much for your famous stuffing, or the cornbread muffins were forgotten at dinner, there's a way you can give stale cornbread a second life: Make crispy, airy crackers.
Cornbread has two highly debated textures: dry and bready, or soft and cakey. Both are valuable, and both will work for these crackers. Since the bread is already partially dry, all you need to do is create the cracker shape and size that you want, and dry them out completely in the oven. The finished cornbread cracker is brittle and delicate, with a light corn presence that pairs well with anything you smear on top.
How to make crackers with leftover cornbread
1. Slice the cornbread
Cornbread crackers use the same process as biscuit crackers. Slice the cornbread into quarter-inch thick slices. This is pretty easy with the dry variety of cornbread. I used a serrated knife to slice mine. If you have the sweeter, cake-like cornbread, put it in the fridge for 10 to 15 minutes to firm up the saturated fats in the mix. Then try slicing it.
I sliced the cornbread into long planks, but you can shape them however you like. Cut the planks on a diagonal for a bit of pizzazz. If you have cornbread muffins, the crackers will have a muffin silhouette. I love that for you.
2. Bake the crackers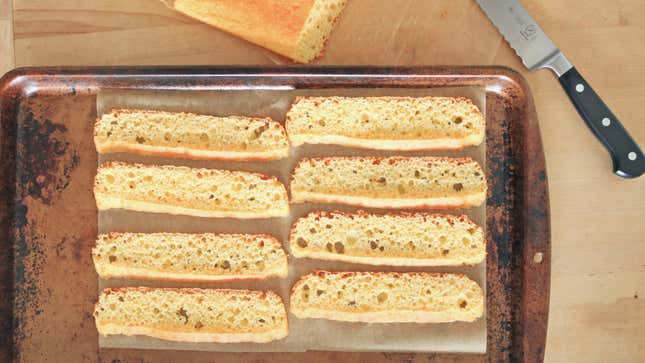 Lay the slices in a single layer on a parchment-lined baking sheet. They shouldn't be touching, but they don't have to be far apart. Bake them for five to 10 minutes at 350°F. Flip them and bake for another five to 10 minutes. Mine started becoming quite fragrant at around eight minutes, so I flipped them. Depending on the thickness of your crackers, how compact the crumb is, and the type of mixture you used, the crackers may take slightly more time. Keep an eye on them after the flip halfway, so they don't brown too much. Your goal is to dry them completely rather than brown them, but a little color is to be expected.
The crackers are done when they're slightly browned on the edges, and quick to snap under pressure. I ate mine with baba ganoush and scrambled eggs, but these crispy boys go well with any topping. Serve them alongside some homemade onion dip, scoop hummus with them, schmear cream cheese on top, or add them to your Cyber Monday charcuterie board. These crackers will keep well for over a week in an airtight container.