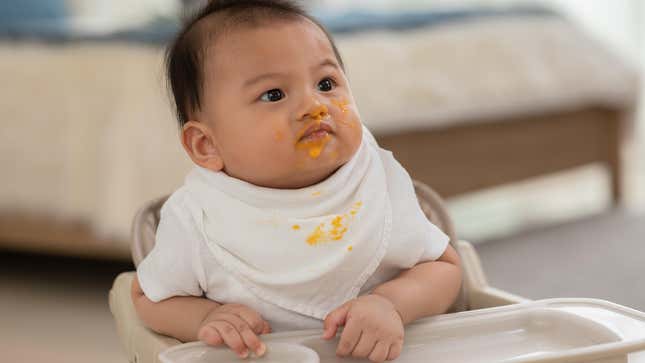 No matter how you choose to carve your pumpkins and what you choose to do with them, you're going to end up with a mess. Pumpkin guts are—all at once—stringy and solid, wet and dry, and squishy and hard. You have to get your hands in there to scoop them out, then manually pry the seeds from the mush. You're going to end up with this gunk on something, and you're going to want to get it out. Here's how to remove pumpkin from clothing, carpet, and harder surfaces.
Removing pumpkin from clothes
To get pumpkin out of clothes and other fabrics, you need to master your water temperature. First, scrape off any solid bits lingering on the fabric, then run it under cold water to loosen the stain and make sure the bugger doesn't spread. Pre-treat it with a little laundry soap or stain remover, then throw it in your washer on the hottest setting. Add bleach if it's safe for the fabric.
Remove pumpkin from your carpet
You can use carpet cleaner to do this, sure, but there's another way in case you don't have that on hand: First, pull the guts out of the fibers as much as you can. Hoover, purveyor of vacuums and expert in carpets, recommends using a fork for this, as it will scoop up the stringy bits without pushing the carpet down and matting it up. Then, mix one teaspoon of detergent with four quarts of water to pre-treat the spot. After letting it sit for about five minutes, blot it up with a rag and rinse it with some cold water. Blot again (and again and again, if you have to) before letting it air dry.
Remove pumpkin from hard surfaces
While the orange pigments in pumpkins are trouble for your fabrics and carpet, they're not quite so serious on dark-colored surfaces, like counters or wood. Try the steps above with the laundry detergent mixture or just put a few drops of dish soap in a bowl of water, then use a rag to blot up the mess. When working with wood, you want to rub in the direction of the grain to avoid smashing it in further. Use a clear soap if you can, too, so you can let it sit on the muck for a few minutes before wiping it off, especially if the pumpkin has become crusted on.