Hello Nature readers, would you like to get this Briefing in your inbox free every day? Sign up here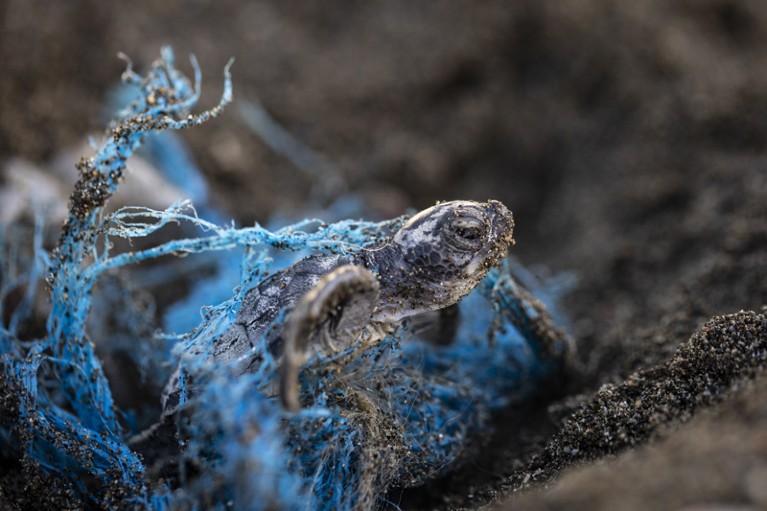 This baby green sea turtle (Chelonia mydas) has become tangled in plastic during its journey across Samandağ Beach, Turkey. Luckily, volunteers patrol this beach to usher hatchlings to the ocean. Conservation efforts, including bans on collecting eggs and hunting adults, have led to remarkable increases in some turtle populations. In fact, conservationists are now concerned about the problem of turtles 'overgrazing' valuable seagrass habitat, a reminder that complex interwoven relationships make ecosystems precious — and challenging to preserve.The 15th United Nations Biodiversity Conference, COP15, opens in Montreal, Canada, tomorrow, and Nature has chosen 10 stunning images that illustrate what's at stake.
Nature | 5 min read
A study claiming that ancestors of the Omicron coronavirus variant were circulating in Africa three months before it was detected has prompted fierce debate. The study challenges a leading theory that Omicron arose during lengthy infections in people with compromised immune systems. Critics say the SARS-CoV-2 sequences identified in the study are probably the result of contamination in the laboratory. "This doesn't look like SARS-CoV-2 evolution," says molecular epidemiologist Joel Wertheim. The team that reported the results is re-checking the data.
Nature | 4 min read
Reference: Science paper
Severe COVID-19 has been linked to changes in the brain similar to those seen in old age. Scientists studied brain samples from 21 people who had severe SARS-CoV-2 infections when they died. Inflammation and stress genes in the frontal cortex — a brain region essential for cognition — were more active in infected people than in uninfected people, and genes linked to forming connections between brain cells were less active. Proteomics researcher Daniel Martins-de-Souza says the work is preliminary but could ultimately help people who have lingering cognitive difficulties after COVID-19.
Nature | 4 min read
Reference: Nature Aging paper
Features & opinion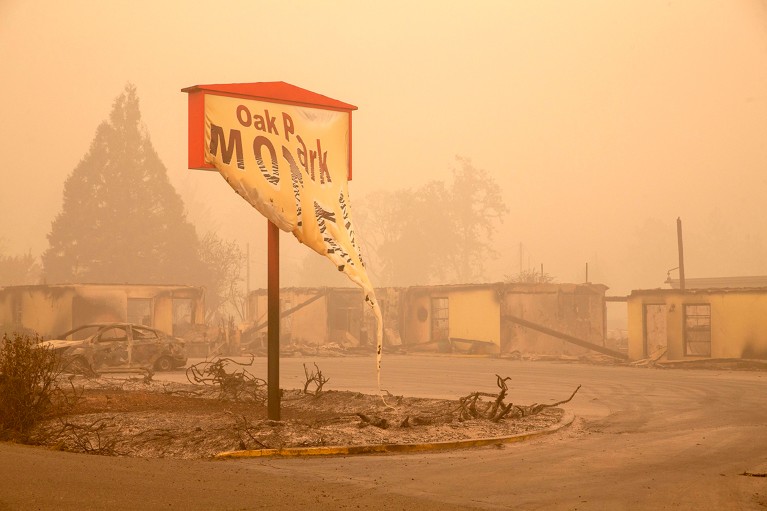 Fires and droughts in the western United States are getting worse — and they're combining with industrial sources to threaten air quality and people's health. During the wildfires of September 2020, the air quality in part of Oregon was so bad that it exceeded the ability of the standard air quality index (AQI) to measure it. AQI peaks at 500, and extrapolations by the Oregon Department of Environmental Quality estimate that it would have reached an unheard-of 642. Wildfires are increasing across the world, but the trends in the western United States stand out because they mark a sharp change in air-pollution levels in a place with some of the strongest environmental regulations in the world.
Nature | 13 min read
When a neurotechnology company goes under, it can leave people with non-functional implants that they can't control, that often can't be removed and that can be an obstacle both to medical imaging and future implants. It can also force people to face levels of pain or disability that they thought were behind them. "Patients are suffering terribly," says neurosurgeon Robert Levy. "Making them the victims of bad business practices or a bankruptcy is horrible for patients, horrible for the field and grossly unethical."
Nature | 17 min read
This article is part of Nature Outlook: Robotics and artificial intelligence, an editorially independent Nature supplement produced with the financial support of the FII Institute.
PhD student Maya Gosztyla explains how time-management strategies can help to break the vicious cycle of low productivity due to overwork and exhaustion. She recommends tracking goals on three timescales: big-picture planning; reflecting, forecasting and prioritizing for each academic term; and assigning weekly tasks. This makes it easier to decline commitments that don't fit into the schedule or contribute to any goals, she says.
Nature | 6 min read