Hello Nature readers, would you like to get this Briefing in your inbox free every day? Sign up here.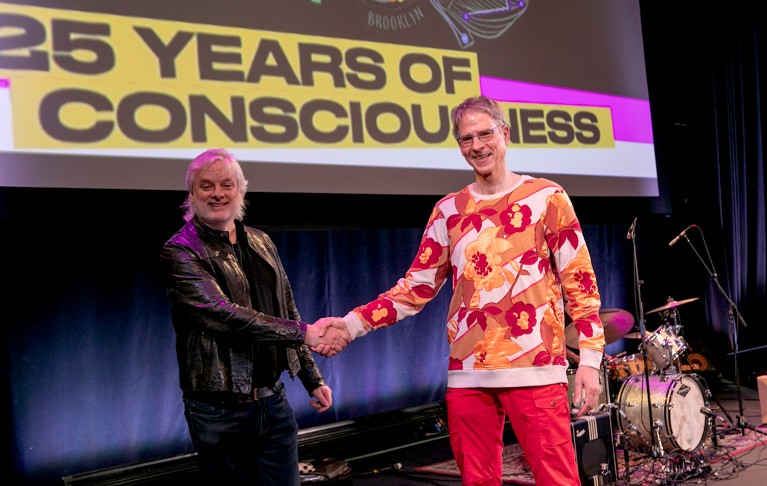 A decades-long bet on consciousness has been won by philosophy. In 1998, neuroscientist Christof Koch bet philosopher David Chalmers that by 2023 researchers would have discovered how the brain produces consciousness. There are two leading hypotheses on consciousness: one proposes that it's a 'structure' in the brain formed by a specific type of neuronal connectivity; the other suggests it arises when information is broadcast to areas of the brain through an interconnected network. Results from six independent laboratories didn't perfectly match either hypothesis. With no definite answer yet, Chalmers was declared the winner and can now enjoy the promised case of wine.
Nature | 6 min read
Two of the passengers who died when the Titan submersible imploded on its way to explore the wreckage of the Titanic belonged to a family that is a prominent philanthropic funder of science in Pakistan. Shahzada Dawood and his son Suleman were part of the Dawood Foundation, which set up a technology university, a science-focused girls' school and Pakistan's first contemporary science museum.
Nature | 4 min read
One year after Roe v. Wade was overturned, dwindling abortion access in the United States is starting to take a toll on people's health. The landmark 1973 ruling had protected abortion access for decades. The average number of abortions per month has now fallen by about 3%, with drastic decreases in states with bans and corresponding increases in nearby states where abortion is allowed. There have also been signs that people who experience pregnancy complications have been put in life-threatening situations because physicians couldn't treat them properly. For example, people whose water breaks before the fetus is able to survive on its own have been sent home instead of being offered an abortion that can prevent dangerous infections.
Nature | 6 min read
UK universities' support to students who report harassment and abuse "does not appear to extend to support for staff", finds an analysis of responses to gender-based violence since 2016. There is huge variability in how institutions handle complaints, from the amount of investment to the availability of specialist support staff. Complainants often receive little information on the progress or outcome of their case. The analysis is based on 52 interviews, so it's hard to say whether the findings are representative, says lead researcher Anna Bull. The report recommends that gender-based violence at universities should be monitored by the UK workplace-safety regulator, and calls for better guidance on complaints handling.
Nature | 6 min read
Reference: 1752 Group report
Infographic of the week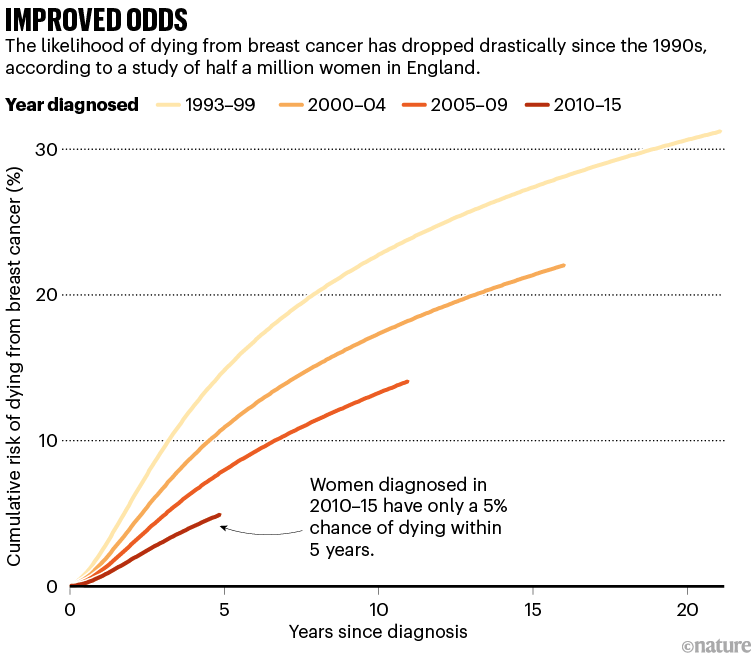 There has been a huge leap in the breast-cancer survival rate in England. A study of more than half a million women has shown that deaths after a breast-cancer diagnosis have decreased by two-thirds since the 1990s. "What we can't do is say how much of the improvement is due to treatment or screening or breast cancer awareness," explains oncologist and study leader Carolyn Taylor. (Nature | 3 min read, reference: BMJ paper)
Features & opinion
An overlooked group of viruses, called bacteriophages (phages), infect microorganisms and could be used to overcome drug-resistant bacteria, writes Tom Ireland in The Good Virus. The idea is nearly a century old, and has, until recently, been rejected by most Western researchers. Phage therapy carries risks including life-threatening immune responses and turning certain bacteria into pathogens. "Ireland walks a knife edge," says reviewer and Nature reporter Heidi Ledford. "Although positive one-off stories hint at a possible way to save more lives, they also run the risk of giving false hope to people in desperate circumstances."
Nature | 6 min read
The United Kingdom's research-funding organizations are planning changes to a nearly 40-year-old assessment system — the Research Excellence Framework (REF). A Nature editorial lays out the new approach and calls it "a welcome start" on the path to making "assessment better, deeper and more inclusive". Researchers have until 6 October to provide feedback on the plan.
Nature | 5 min read