Adding Coca-Cola to wine isn't new–it's common in Spain, and even Tom Hanks sips on diet "cokagne" – but could adding soda make bad wine better? Could there finally be an easy answer to rescuing that liquid trash in a bottle? I drank a fair dose of mediocre and terrible wine to find out.
After reading a particularly moving piece from the Kitchn about adding grape soda to bad red wine, I was ready to try it. Although I was apprehensive—grape soda is nasty—I could see the benefits. Many terrible red wines feature the same problems: They're one note, acerbic, and watery. Adding a splash of pop will add sweetness, fruity flavor (even if artificial), and distracting carbonation. (Who doesn't love a bubbly drink?) Plus, adding ice gives the drink a summer cocktail vibe.
I decided to conduct a few tests. A wine and artificially flavored soda concoction is best served in my favorite obnoxious NYC wine glass. The pairings were: the worst cabernet I could stomach (sorry Yellow Tail lovers, but yikes) with a grape soda; a mediocre rosé with a watermelon soda; and a pretty okay pinot noir with cherry soda. I ended up trying the reds twice to see if the cherry or grape would make a difference. It's important to note that all of these sodas were very cheap, and oh, so artificial.
---
These are some of my most used wine accessories:
---
I'm no sommelier, but I can appreciate a good bottle of wine, and I would sooner dump a glass that tastes like vinegar than put myself, or others, through drinking it. I don't drink sweet soda normally, but I appreciate what a pour can do to elevate a cocktail. Going into tasting, I tried to switch my view and think of these more as cocktails than wine.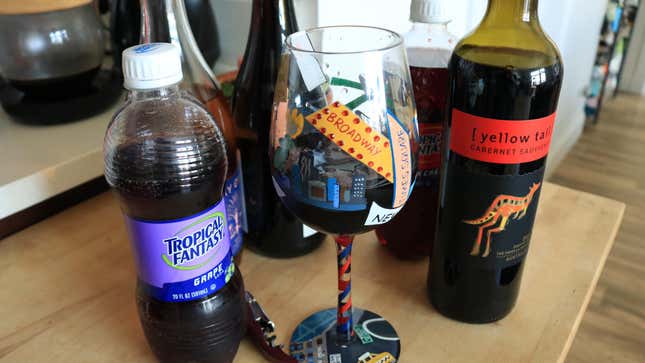 Let's start with the good news. The mediocre rosé with the cheap, sweet watermelon soda was actually better. It added a little juiciness to the drink, a touch of necessary sweetness, and the watermelon flavor complemented the flavor notes without overpowering. I would offer this drink to friends as a fun summer wine cocktail.
The okay pinot noir with the cherry soda was not bad either. However, I found that if I wanted to enjoy the sparkling aspect of the soda then I had to add extra soda. Sadly, then the artificial flavor of the soda would start to mask the wine's flavor. Since the pinot was okay on its own, masking its flavor gave me sadness. The grape soda was not good. It turns out grape soda is so powerful that even a splash makes the whole drink taste like a Jolly Rancher. Not in a good way.
There was no saving the Yellow Tail cabernet. Even after adding lots of ice, and a good deal of grape soda, the astringent notes were always present. I had to add a lot of soda to make it palatable, and at that point I was basically drinking soda with a dash of wine.
Should you pour soda into wine?
A splash of soda can make for an improved wine cocktail as long as the flavors are complementary. Check out the flavor notes on the wine's label and pick up a soda that reflects one. Try rosé with watermelon, peach, strawberry, or citrus soda. Red wines could pair with regular coke, cherry, vanilla, or Dr. Pepper. White wines will be lovely and bright with grapefruit, lemon, peach, or pear soda. I can't quite get behind grape soda. Even though wine is made from grapes, I don't think grape soda is. The flavor simply takes over too quickly for me, but try it and see how you feel.
Be cautious when adding the soda component as it can easily overpower the wine. Add ice to a glass, pour a full five ounces of wine and start adding soda by the splash. Taste. Assess. Add more soda if needed.
If there's a wine I'd drink on its own, then I wouldn't use it in a soda cocktail. I'd rather just drink the wine. As for terrible wines: I'm sorry, but soda can not save truly terrible wine. On the bright side, bad wine can make your soda more alcoholic, if that's what you're looking for.