Going, a travel deal website (formerly known as Scott's Cheap Flights), is currently offering memberships for up to 60% off. Here's what each membership can offer you and how to know whether or not it's worth the price for you.
What is Going?
Going is a membership-based travel deals website that sends members newsletters with flight deals to over 900 destinations. You can find deals from 40% up to 90% off their normal prices. There are three membership tiers: Limited, Premium, and Elite. Your membership tier will determine how many travel deals will hit your inbox. Limited is a free tier with—as the name implies—very limited deals, but the other two plans have 14-day free trials you can try before committing.
Here's what each membership tier gets you:
Limited, Free:
Small selection of deals on economy-class tickets for international travel, 1-2 days after they are found
Can follow five US departure airports (but you can't filter flights in any other way)
Premium, $49/year (before deal):
Immediate notification of both international and domestic economy-class deals
Alerts about rare mistake fares from your home airport (when the airlines incorrectly price a flight)
Weekend Getaway alerts (for flights departing within the next month)
Ability to filter what alerts you get
Can follow up to 10 US airports
Elite, $199/year (before deal):
Everything in Premium
All mistake fares Going finds
Deals on all ticket classes
Unlimited number of departure airports
Deals on award flights (for booking with points)
Priority support
You can see each tier's full breakdown here.
Once you make an account, you will choose your home airport and can see deals to destinations with information about the itinerary. You will even be shown what the average deal is for that destination, what the best deal historically has been for that location, and how your deal fares.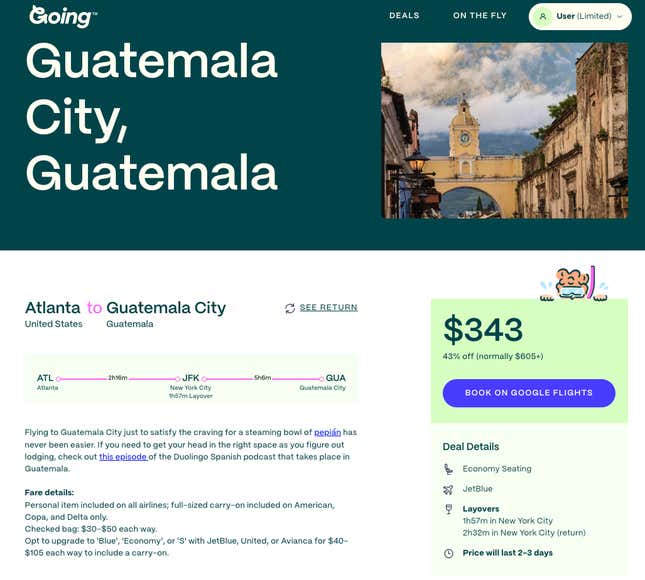 I selected my home airport of Atlanta and found this itinerary deal to Guatemala City, Guatemala, for $343, down from its $605 normal price (43% off). It also shows the average deal price for that route is $306 and the best deal has been $110. It also links to Google Flights with the flight information already loaded, so you can easily make the booking there or directly with JetBlue.
---
Travel smart and comfortable with these products:
---
What the deal is
The current Going deal, which goes through August 31, is in celebration of their eight-year anniversary. The Premium and Elite tier have a one-, two-, or five-year-long membership commitment. The longer you commit to the membership, the higher the discount you'll receive.
Premium membership:
$39.99 for a 1-year membership (normally $49)
$54.99 for a 2-year membership (normally $98)
$129.99 for a 5-year membership (normally $245)
Elite membership:
$124.99 for a 1-year membership (normally $199)
$249.99 for a 2-year membership (normally $398)
$499.99 for a 5-year membership (normally $995)
Why Going might be worth the price
The obvious downside is that you have to commit to the membership for at least a year. (You could, however, sign up for the 14-day trial and, if you like what you see, buy a membership, but note that you would have to do so before August 31 if you want this deal.) Still, if you know you're traveling internationally at least once a year, the Premium or Elite membership will pay for itself on the first trip you take. If you don't travel that often, then the limited membership might be the best for you (remember, you can still try the other two for free if you're just looking for one good deal).
Regardless of how often you travel abroad, if you only fly economy, there's no point in getting the Elite membership. If you like to fly first class, business, or premium economy, though, or you use points or miles to fly, then it's worth considering.
The anniversary deal makes getting a Going membership an even better offer. If you are a flexible traveler, meaning you value a deal more than a specific destination and can open your schedule to travel pretty easily, then Going will save you a lot of time looking for travel deals. You can read more about Going and how it works here.