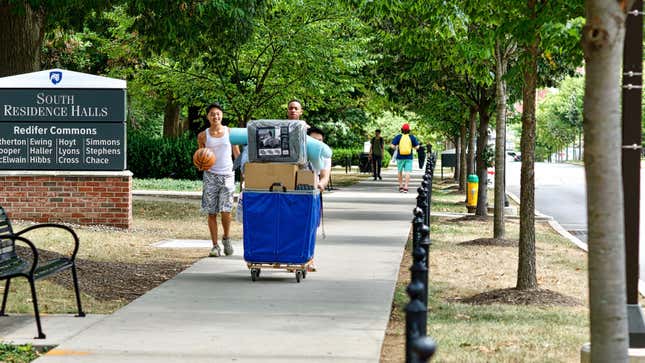 Summer break is a glorious, three-month respite, no matter what year of school you're in or how old you are. However, there's still work to be done for the upcoming fall semester, and some of it is pretty key to doing well next school year. And they're timely, too, which means you have to start acting right away if you want to stay ahead of the curve. Here are the steps you need to take, in order, over the course of your summer break from school.
What to do three months before the fall semester starts
With three months until school starts, you should do the following activities:
Register for classes. Each school has their own schedule for this, but it typically happens around April. You can wait, but you run the risk of your preferred course sections getting filled up.
Submit final transcripts. Even though you've been accepted, most schools do want to see how you did in your final semester of high school, so if you're heading off to freshman year in the fall, check in on the deadlines for doing this.
Accept your financial offers. (If you haven't completed your FAFSA, get on that first!) The earlier you do this the better, in case any issues crop up or you need to find alternative funding. Don't forget to do your entrance counseling and submit your Master Promissory Note, either. This information should be available through your bursar, but can be hard to find, so don't forget about it until it's down to the wire.
Join any Facebook, WhatsApp, or other social media groups made for people in your class or concentration. You can introduce yourself, but you don't have to participate too actively if you don't want to; it's just nice to familiarize yourself with the people you're about to spend several years with and have a place to ask questions of your peers.
What to do two months before the fall semester starts
With two months to go, you should have the financial and academic basics covered, so this is the time to enjoy time with family and friends, work an extra job to save up for the year, and generally chill. If possible, though, try to plan a campus visit during this time if you haven't gone already. Schools offer tours or special visitors' days, and if it's close enough that you can get there reasonably for a day or two, you should. Orientation is fun, but it's jam-packed. Familiarizing yourself with your new territory on your own terms and at a slower pace can help with any anxiety you have.
Finally, if you've been assigned a roommate, you should know their name by mid- to end of summer. Add them on social media and get to know them passively. Exchange some messages, check out their posts, and familiarize yourself with who they are (or at least who they project they are). Start chatting about who's bringing what to the shared living space, but save harder conversations until you get to know them better.
What to do one month before the fall semester starts
With a month to go, you have a few time-sensitive responsibilities:
Sometime before the two-week moving mark, ship anything you're going to send out to your new home, like comforters or shoes, if you don't want to schlep them in the car or on the plane. Check in with your school about whether there is a place for packages to await pickup (there almost certainly is), and send it with some padding time in case something goes wrong.
Sign up for orientation events that interest you as soon as you get the email to do so. Schools have meetups, club displays, walkthroughs, and professor introductions, to name a few, but some of these require prior signup. Make a plan for what your orientation will look like so you don't get overwhelmed on arrival.
Log into your school email and online portal. You probably won't have access to it until closer to the start of the semester, but familiarizing yourself with it and making sure you don't have any tech issues will save you time once things get busy in the fall. If it has an accompanying app for your phone, download it right away, too, so you have it on orientation day if you need it in lieu of an identification card you don't yet have.