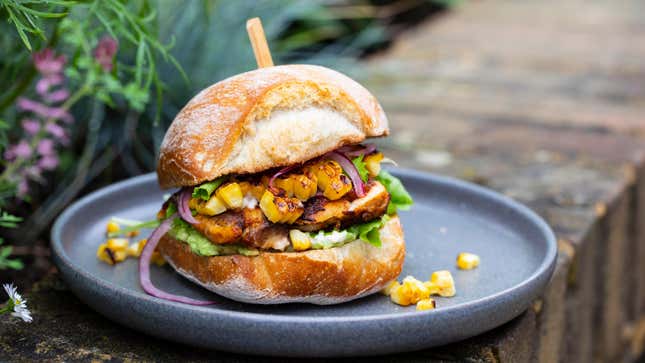 Perhaps you thought you were going to make it through the rest of the summer without me talking about corn yet again, but you thought wrong, pal. In addition to steaming, grilling, and chomping on raw kernels, I am now medium-key obsessed with pickling corn.
Pickling corn is my new favorite thing for several reasons. It's cheap and easy—two things that factor heavily into my personal brand. It's also a great use for any "bonus" corn that may have found its way into your kitchen, as fresh corn can get weird in a couple of days. (You can even pickle leftover grilled corn, for a nice charred note.) But the main draw for pickled corn is that it's the perfect balance of hot, sweet, sour, and salty, and it tastes amazing on pretty much everything.
---
You can pickle that (with these tools):
---
I have added it to salads, to bowls of ramen, to quesadillas, and piles of fried rice. I have scooped it up with Doritos. I have mixed it into cheese dips. I have eaten it by the spoonful. I adapted this recipe from Food52, omitting the bay leaf and adding a few cloves of smashed garlic. I also increased the salt, because it seemed a touch sugar-heavy.
Pickled Summer Corn
Ingredients:
1 1/2 cups of fresh corn
1 jalapeño or serrano or other pepper of your choice, halved
Any other aromatics you would like in there—a bay leaf, some peppercorns, garlic, and ginger are all great choices
3/4 cup white vinegar
1/2 cup water
1/3 cup sugar
2 tablespoons salt
Add your corn, pepper, and aromatics to a jar or soup container and set it aside. Pour the remaining ingredients into a small sauce pan and heat until boiling, stirring to dissolve the sugar and salt. Once boiling, pour it over the corn, and let it sit until it's cool to the touch. Place in the fridge to chill overnight, and enjoy for breakfast the next morning. (Don't like, put it on your granola, but I bet it'd be really nice on eggs, especially with fried leek greens.)
This post was originally published in July 2018 and was updated on July 21, 2023 to update photos and formatting.