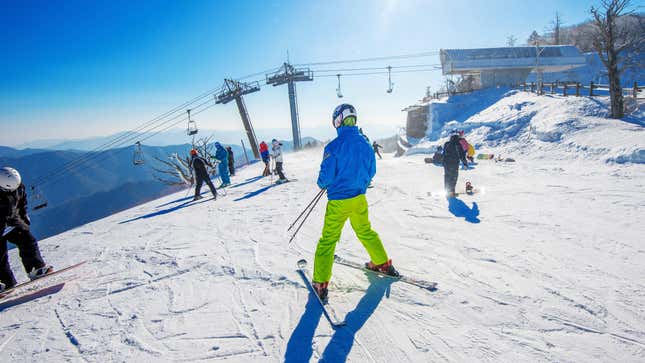 Being a free spirit who "goes with the flow" and doesn't plan for trips or activities is often seen as a valid (and fun) way of living. But many of us simply can't live that way; we know there are benefits to the think-ahead way of living. For one, if you can allow yourself to think about snowy slopes even while it's still sweaty outside, you can save almost half the price on ski passes—if you get them now, before Labor Day hits on Sept. 4.
Why you need a ski pass rather than a lift ticket
Something that people learn their first time skiing is that it would've been cheaper to get a ski pass rather than an individual mountain lift ticket. A ski pass can save you money even if you only plan to ski for a single day since they often offer a variety of options.
One of the most popular ski passes is the Epic Pass, which offers you the chance to ski at multiple resorts around the country. The prices for the 2023-2024 season are increasing on Sept. 4. If you buy them now, you can lock in the cheaper prices of $48 for adults and $24 for kids per day for all winter. Obviously, the more days you purchase, the cheaper your per-day prices will be.
Epic Pass options
There are several Epic Pass options to choose from. The best one for you will depend on your location, whether you plan to travel to ski or not, and how often you plan on skiing. The most popular options are the:
Epic Local Pass: This pass is available for people traveling and locals alike. The Epic Local Pass is the best option for those who don't plan to ski on the busiest days, such as over holidays or during peak periods (Nov. 24-25, 2023; Dec. 26-31, 2023; Jan. 13, 2024; and Feb. 17-18, 2024). You'll get unlimited access to many mountains around the U.S. and some options abroad. The local pass is on sale at $689 for adults, $359 for children ages 5-12, and $558 for teens ages 13-18.
Epic Pass: This is the whole package. You get access to more resorts and mountains than the local pass without any of the day restrictions. The pass is priced at $929 for people 13 and older, $473 for children ages 5 to 12, and kids under 4 years old can ski for free.
Pick specific mountains: If you live close to specific mountains and don't see yourself traveling this winter to other areas, your best bet is to buy passes for those specific spots. There are also regional pass options if you're willing to travel within your region. The prices will vary for every mountain and region; for $567, you have access to ski all 21 of the Northeast mountains all winter.
Epic Day Pass: If you're not an avid skier but still want to take advantage of the prices, the day pass is your best bet. You can choose a set number of ski days and only pay for those. Single-day ticket prices start at $49 for a limited number of ski resorts (Midwest, New Hampshire and Pennsylvania). If that's too restricting, you can do $80 per day for more ski resorts or $104 per day to have access to all of the Vail Resort slopes and their partner resorts.
How you save with the Epic Pass
A single-day walk-up pass can cost more than $200 per day at some resorts included in the Epic Pass, so the savings right now are significant. Keep in mind, too, that there are other discount options for students, active, retired and military dependents, seniors, and those with permanent disabilities.