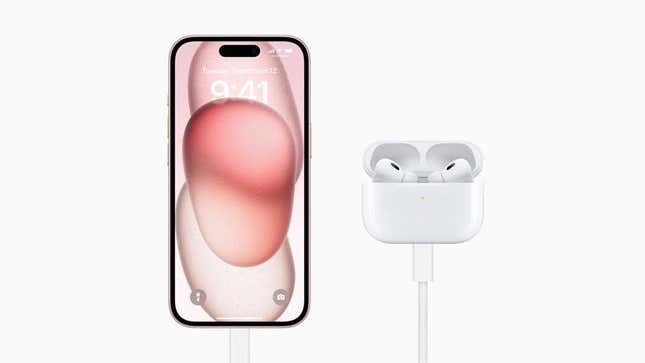 Apple revealed the newest changes to the AirPods Pro during its September "Wonderlust" event. The new headphones build off the already released AirPods Pro 2nd Generation, but instead of utilizing the old Lightning cable, it now supports USB-C. The new earbuds aren't even out yet, but Best Buy is already running a deal that will let you get them for $50 off.
Right now, you can get the new AirPods Pro with USB-C at Best Buy for $199.99. It's unclear how long the deal will last, but these earbuds typically run for $249.99, so seeing even a small discount on them is nice. The deal only covers the preorder of these earbuds, which are currently set to release on Sept. 22.
The AirPods Pro are the tech company's first wireless earbuds and headphones to get the USB-C treatment alongside the iPhone 15 lineup. They're pretty much the same as the original AirPods Pro 2nd Generation earbuds, but they sport new dust resistance and future support for lossless audio that'll work with the Apple Vision Pro VR headset.
You'll also find some other new features available on the AirPods Pro with USB-C, including Adaptive Audio, Personalized Volume, and Conversation Awareness, all of which are powered by the new AI systems Apple is now taking advantage of.