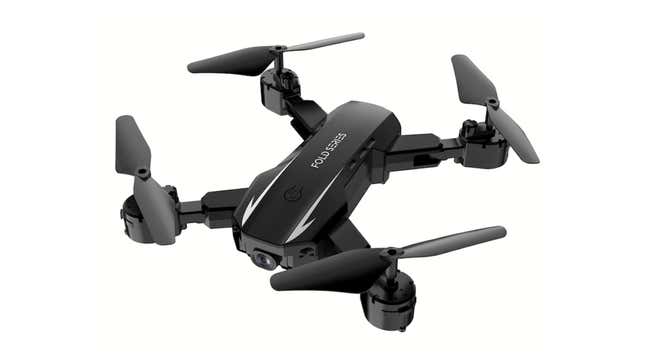 The Ninja Dragons Blade X drone is a compact quadcopter that may best be suited to beginner flyers and hobbyist or professional photographers. This dual-camera drone is on sale for $79.97 (reg. $199)—but only through today, Oct. 23.
The Blade X is a beginner-friendly drone that has an electronic stabilization system to help keep it steady during flight. One-click takeoff and landing may reduce the chance for accidental crashes. It's equipped with a 4K HD primary camera and a secondary 720p camera, along with a foldable design and a carrying case. Four backup blades and four protective blade frames are also included.
Ninja Dragons Blade X Ultra HD Dual Camera Drone
Fully charged, this drone may fly for up to 12 minutes. It may take up to 120 minutes to fully charge your drone, depending on the power source. A USB charging cable is included. The Blade X has a maximum range of 150 meters and can stream a first person view through the front-facing camera.
If you want a beginner-friendly drone, the Ninja Dragons Blade X 4K dual-camera drone is available through today, Oct. 23 at 11:59 p.m. PT, for $79.97, though prices can change at any time.