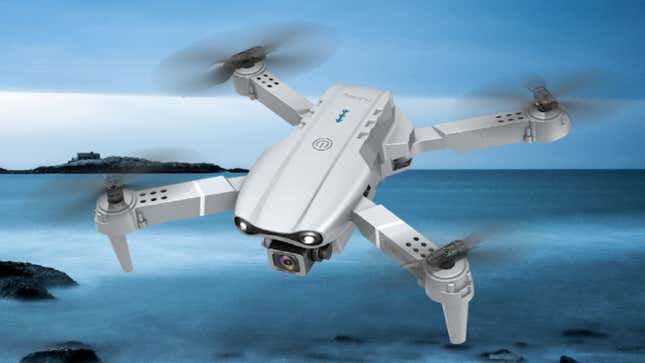 Drones aren't just for super tech-savvy people anymore, or those with big wallets. Whether you want to capture aerial videos or just fly them around for fun, you can find pretty decent, cheap drones nowadays—like this best-selling drone that's on sale: you can get two for $149.99 (reg. $398).
If you're thinking that you don't need a drone, you're probably right—you don't—but they can be a lot of fun. You can fly one around and get a live video feed of whatever their cameras see, and take photos and videos of whatever catches your eye: aerial shots of your home, action videos of your dog playing frisbee, or group photos from above.
These Ninja Alpha Z Pro and Flying Fox drones share many of the same specs. Each has a 4K wide-angle front camera and a 720p bottom camera; altitude hold mode for stable flying; wifi connectivity to pair with your smartphone; four-channel mode for all different types of movement; and one-key automatic return so the drones can fly their way back to you.
Ninja Dragon Alpha Z PRO 4K Camera Drone
With the Alpha Z Pro, you can fly for up to nine minutes, while the Flying Fox can fly for up to twelve minutes. The Flying Fox also has gesture control capabilities that allow you to snap a photo or start recording just by doing a hand gesture in the camera path. The Ninja drones are a great low-cost option to fly around while taking some HD pictures and videos (though their short battery life may not be ideal if you're hoping to capture time lapse content or fly for longer than twelve minutes).
You can get the Alpha Z Pro and Flying Fox Ninja drones for $149.99 (reg. $398) right now, two for the price of one, though prices can change at any time.