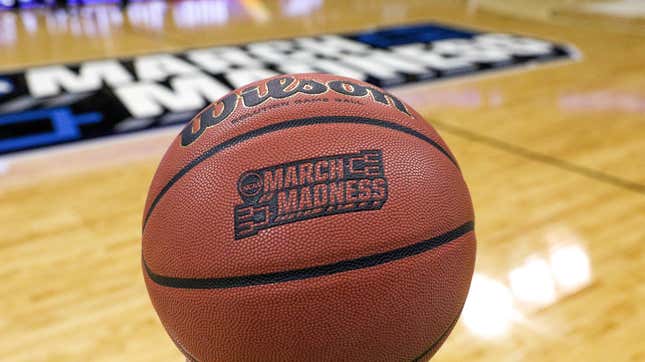 March Madness is beginning its final stretch, with the Elite 8 phase of the tournament starting on March 25. As teams get eliminated, the competition and intensity increases—but that's not necessarily the case for ticket prices. If you live in some of these cities or are close enough to take a short trip, you don't have to settle for watching the game at home or at the local bar. You can experience the game live for as little as $18 (before fees and taxes); just make sure to bring your binoculars.
Which games have cheap tickets right now?
There are a couple of games available for cheap before the Final Four phase of the tournament starts on April 1 (tickets for Final Four games start around $200 for nosebleeds). Some of the best apps and websites to find cheap tickets are Seat Geek, Vivid Seats, and StubHub.
March 24, KFC Yum! Center; Louisville, Ky.
If you're in Louisville, Ky., or close to the KFC Yum! Center, you can score Session 1 tickets of the Sweet 16 round and watch both, Alabama vs. San Diego State and Creighton vs. Princeton for $29 per ticket. You can see what seats suit you best either on StubHub, VividSeats, or Seat Geek. The games start at 6:30 p.m. and 9 p.m.
March 26, T-Mobile Center; Kansas City, Mo.
While the Elite 8 teams haven't been announced yet, you can catch the Midwest Regional Session 2 games for $19 right now from StubHub or VividSeats for $18. Or if you're in Kansas City tonight, you can catch tonight's game and Sunday's, both for $45, also on StubHub.
March 26, KFC Yum Center; Louisville, Ky.
On the other side of the Elite 8 bracket, the South Regional Session 2 game tickets are also selling for $18 on VividSeats. The cheapest options on StubHub are $28 at the moment. The game starts Sunday at noon.
Remember that these are third-party apps and websites. The tickets are cheaper than the official tickets because they are bought by bots, people who had to change plans, or people who tried to turn around a quick profit but failed to do so and sell them last-minute to recoup some money. Because of that, prices can and will change unexpectedly. So it's always good to keep an eye on these apps and even set alerts when prices drop to a certain amount.