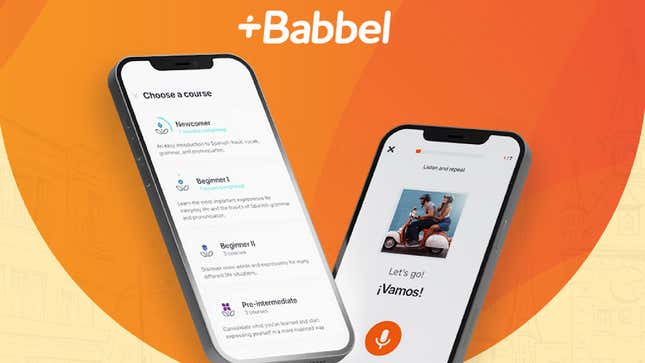 If you took a Spanish or French class in high school but now can't remember the word for banana, you aren't alone. It might be that you didn't use the language enough for it to really stick, or that a traditional class didn't fit your learning style. Or maybe you never took a language in the first place, and you're kicking yourself for it now.
Whatever the reason you want to brush up on a language you don't speak, one way to do so is by taking self-directed lessons with an app like Babbel. Right now, you can get a lifetime subscription to Babbel for $200, 67% off the regular $600 price.
Learn a second language on your own schedule
Babbel allows you to customize your learning experience. Choose from 14 languages and dive into lessons to fit your current skill level—whether you're a total beginner or actually remember some phrases from high school.
Each session takes around 10–15 minutes and can be accessed via mobile or desktop, and while offline.
Effective learning methods
Babbel focuses on conversational, real-life topics and phrases, so you're more likely to study terms you'll actually use. You might learn how to have a conversation about travel, family, business, or food, or pick up some general greetings.
Advanced speech-recognition technology aims to help you improve your pronunciation by listening to your speech and giving you live feedback. This helps you make sure you're on the right track before moving onto more complicated topics.
While Babbel is an excellent resource for language learning, it's not going to make you fluent in just a few weeks. Instead, it offers a fun and engaging way to pick up some new terms and phrases and get you grounded in a language you've always wanted to speak.
Currently, a lifetime subscription to Babbel is $200 (reg. $600), though prices may change at any time.