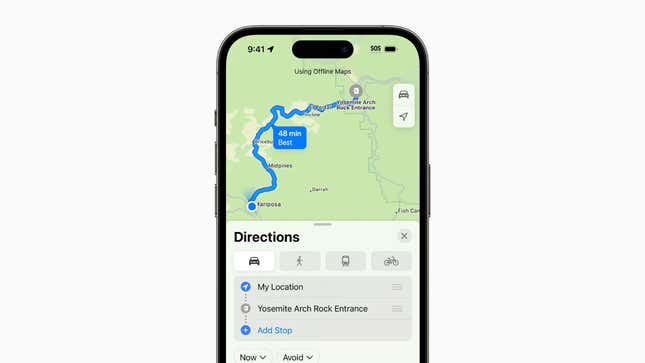 Apple Maps is quickly becoming a great alternative to Google Maps. In some parts of the world, the navigation and street view features are actually better than Google's. But until now, the app had one major flaw: If you didn't have the internet, you could not use Apple Maps, period.
Apple is finally changing that with the release of iOS 17 (currently in public beta). There's now support for offline maps, although it's a bit hidden. Once you download a part of the map, all the details within will be accessible to you even if you can't find a cell signal, including points of interest, road details, estimated time of arrival, and travel directions for driving, walking, cycling, and public transit.
But to do all of that, you first need to manually download an area map to your iPhone. Open the Maps app and tap your Profile icon next to the search field. Go to the Offline Maps section and choose the Download New Map option. Maps will automatically suggest your home area, but you're free to search any part of the world. Choose the area, and, in the preview page, you'll be able to crop or expand the map area to download. You'll also see how much data and storage space will be required for the offline map. Once you're happy, tap the Download button. By default, maps are only downloaded over wifi, but you can change that in the Settings.
Once the process is done, you'll find the map area in the Offline Maps section. You're free to download more offline maps as well, and you can manage and delete downloaded maps from the Offline Maps section. Offline maps will keep updating in the background as more details are added or changed.
Apple also has a Use Only Offline Maps toggle that's quite interesting. Once enabled, the Maps app will only use the downloaded maps data and will not pull from your cellular connection for navigation. This option can come in handy if roaming data charges are high, or if you're worried that spotty network connectivity will take a big chunk of your battery life. Just remember to download enough map data beforehand, so you don't run into trouble.