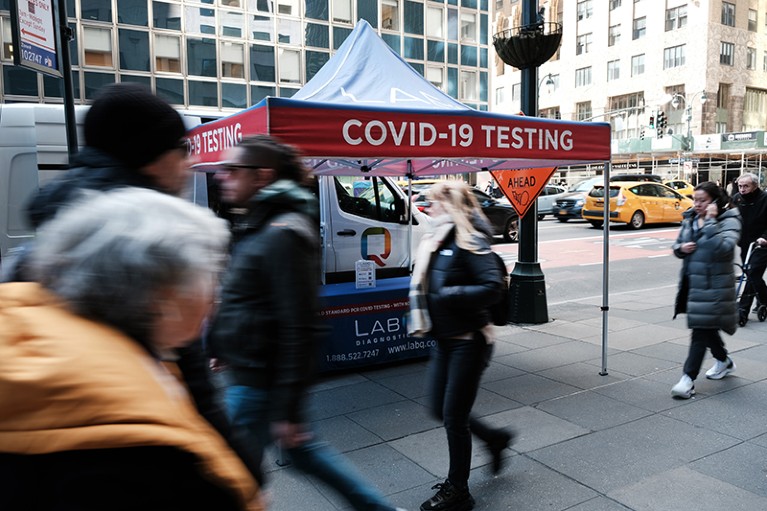 Researchers are racing to determine whether a highly mutated coronavirus variant that has popped up in three continents will be a global concern — or much ado about nothing.
Several laboratories detected the variant last week, and it has been named BA.2.86. Although the lineage seems to be exceedingly rare, it is very different from other circulating variants and carries numerous changes to its spike protein, a key focus of the body's immune attack on the SARS-CoV-2 virus.
To many scientists, the emergence of BA.2.86 is reminiscent of the early days of the Omicron variant in late 2021, when scientists in southern Africa noticed a weird-looking lineage that quickly went global. "There's a little bit of déjà vu all over again," says Adam Lauring, a virologist and infectious-disease physician at the University of Michigan in Ann Arbor, whose lab identified one person infected with BA.2.86.
Successive COVID-19 waves and booster vaccine roll-outs mean global immunity to SARS-CoV-2 is higher and broader than ever, and most scientists do not expect BA.2.86 to have the same impact as Omicron's arrival. "There's good reason to think it won't be like the Omicron wave, but it's early days," Lauring adds.
Nature looks at what scientists know about BA.2.86 — and what they want to find out.
What do we know about BA.2.86?
As of 21 August, the variant had been linked to 6 cases in 4 countries: Israel, Denmark, the United Kingdom and the United States. The World Health Organization in Geneva, Switzerland, has designated BA.2.86 as a variant under monitoring. "Almost certainly there are going to be other cases that will start popping up," adds Lauring.
The lineage seems to be descended from an Omicron subvariant called BA.2, which caused large case spikes in early 2022. However, the BA.2.86 spike protein — the molecule that SARS-CoV-2 uses to enter cells — carries 34 changes relative to BA.2. Large numbers of spike mutations have been observed in people with long-term SARS-CoV-2 infections, and it is likely that BA.2.86 also emerged from one such chronic infection, says Jesse Bloom, a viral evolutionary biologist at the Fred Hutchinson Cancer Center in Seattle, Washington.
Why are scientists following BA.2.86 so closely?
After Omicron appeared, SARS-CoV-2 evolution began to follow a somewhat predictable course: successful new variants emerged from circulating lineages after gaining a few key mutations that enabled their spread. BA.2.86, by contrast, is drastically different from other widespread coronavirus variants, reminiscent of Omicron and early pandemic variants including Alpha and Delta.
"Just like Omicron was a little out of left field, this BA.2.86 is little out of left field," says Ashish Jha, a public-health researcher at Brown University in Providence, Rhode Island, and the former White House COVID-19 Response Coordinator. "There is enough here to get us all to start paying attention."
Many of BA.2.86's changes are in regions of the spike protein targeted by the body's potent infection-blocking, or neutralizing, antibodies, says Bloom, who posted a preliminary analysis of the variant last week. For this reason, there is a good chance that the variant will be able to escape some of the neutralizing antibodies triggered by previous infections and vaccine boosters.
Another feature of BA.2.86 that has scientists paying attention is its geographical distribution. None of the cases seem to be linked — including three infections in Denmark that were detected in different parts of the country. This suggests that variant may already be fairly widespread, says Bloom. "It's got to have been transmitting a fair amount."
What do researchers want to find out?
Labs worldwide are now scouring patient samples as well as wastewater to get a sense of how widespread BA.2.86 is. "We want to try and understand how much of this lineage is out there," says Lauring. If the current trickle of new confirmed cases turns into a flood, it will be a sign that the variant has the potential to compete with other circulating SARS-CoV-2 variants, including a more common lineage called EG.5, and cause a global spike in infections.
Virology labs in Denmark and the United Kingdom say they are trying to isolate BA.2.86 from patient samples. Such work — and studies with safe models of SARS-CoV-2 called pseudoviruses — will help researchers to gauge the variant's ability to evade neutralizing antibodies triggered by prior infections and vaccines.
Bloom says that he is especially interested in seeing the extent to which BA.2.86 can evade neutralizing antibodies triggered by a recent infection with a variant called XBB.1.5, because the latest COVID-19 booster vaccines are based on that variant's spike sequence. "If something like [BA.2.86] became widespread. I think you'd want to start thinking about updating the vaccine," says Bloom.
Should the public be concerned about BA.2.86?
"I don't think anybody needs to be alarmed by this," stresses Bloom. "The most likely scenario is that this variant fizzles out, and in a month, nobody other than people like me even remember that it existed."
Even if BA.2.86 becomes widespread and proves adept at dodging neutralizing antibodies — which looks likely based on its set of spike mutations — other forms of immunity are likely to keep most people from getting seriously ill if they are infected, Bloom adds.
Jha says scientists should pay close attention to the variant. But he thinks the chances are "exceedingly low" that it will turn out to be any more severe than existing variants or cause the level of disruption seen with the first Omicron waves, owing to widespread immunity.
The appearance of BA.2.86 has caught scientists by surprise — and shows that SARS-CoV-2 still has more tricks up its sleeve that researchers will want to understand. "We'll see if it's important beyond that in terms of its public health impact," says Lauring.