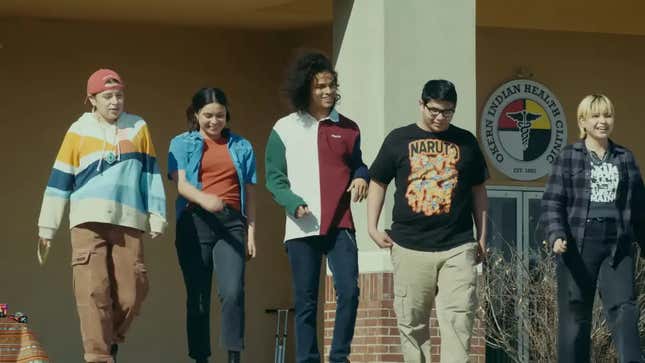 Reservation Dogs is a teen comedy-drama that takes the small-town America aesthetic and flips it on its head, following the lives of four rebellious kids—Elora, Bear, Cheese, and Willie Jack—who live on a Native America Reservation in Oklahoma. Created by Sterlin Harjo and Taiki Waititi, the show also focuses on the broader community on the reservation, but the teens' struggles are at its center. The group promises to save enough money to escape their small town and move to California, but their California dream becomes more distant as financial problems and conflicting priorities put them at odds.
In the second season, the group finally does make it out of their small town to begin their grand journey to California. Of course, they face challenges on the way—both internally, with each other, and with the world at large—and season three picks up with their return to the reservation, finding them back where they started. A recurring theme of Reservation Dogs is the importance of being a part of a community, even when it's a challenge to make peace with who you are and where you're from.
Reservation Dogs | Season 3 Official Trailer | FX
Was Reservation Dogs canceled?
Sadly yes. FX and series creator Sterlin Harjo have confirmed that the third season of Reservation Dogs will be the show's final one. The season will have 10 episodes, just like season two. The first season only has eight, bringing the total number to 28 episodes.
Where and when to stream Season 3 of Reservation Dogs
Reservation Dogs is a Hulu exclusive, and you can stream the third and final season there, along with the rest of the series. The season premieres Aug. 2, 2023, but the whole thing won't drop at once—the first two episodes will air together, with additional episodes being released week-by-week on Wednesday after that.
Is Reservation Dogs worth watching?
No question. After two seasons, Reservation Dogs still has a virtually perfect Rotten Tomatoes score, and I wouldn't expect the third season to be any different.