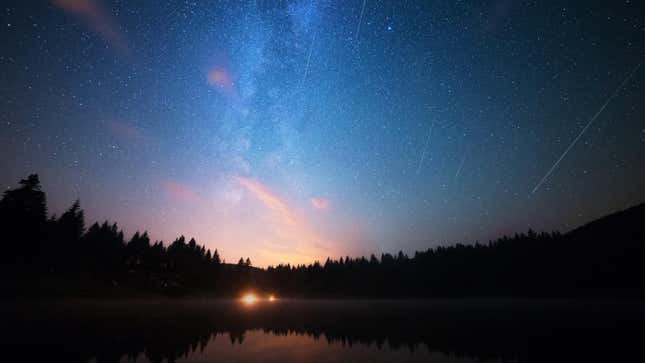 While the Perseids are usually the highlight of summer meteor showers, they aren't the only thing to stay up late or wake up early for this year. As Space.com lays out, there are a handful of lesser-known but still-spectacular showers to view between now and mid-August.
The meteor showers are expected to peak between July 26 and Aug. 17 and will be active for some time before and after (the exact length is difficult to predict, as showers tend to fade in and out). The full moon on Aug. 1 will likely wash out an event known as the Alpha Capricornids, but there are six other opportunities to see meteors light up the sky.
July 26: Capricornids
The Capricornids are infrequent (just a few per hour at their peak) but bright. You can view them from July 10 to Aug. 15, with a peak on July 26. Ideal viewing is after midnight.
July 29: Delta Aquarids
The Delta Aquarids are expected to be active from July 12 to Aug. 19 with a peak on July 29. You may see as many as a few dozen (faint) meteors—the best time to view is after 1:45 a.m. Those in the Southern Hemisphere up through the southern U.S. may have better luck than viewers at higher latitudes.
July 31: Piscis Austrinids
This shower will be active from July 15 to Aug. 20, peaking on July 31. Again, viewers in the Southern Hemisphere are more likely to spot these faint meteors, which will pass at a rate of five per hour. Note that the moon will be 95% full on peak night.
August 6: Iota Aquarids
The Iota Aquarids are going between July 25 and August 15 with a peak on Aug. 6. The best viewing will be before 10:30 p.m. when the moon rises, but you may be able to view about six meteors per hour.
August 13: Perseids
The Perseids are usually the highlight of the summer sky, and they come at an ideal time this year (July 17 to Aug. 24 with a peak on Aug. 13). With the moon only 10% full, the sky will be plenty dark, and the best viewing in North America will be just before 6 a.m. You may see fast, bright meteors at a rate of 50 per hour or more.
August 17: Kappa Cygnids
The final peak occurs with the Kappa Cygnids on Aug. 17, though they are active Aug. 3 to Aug. 28. The meteors only come at a rate of about three per hour, but they'll be visible directly overhead around midnight in a relatively dark sky.