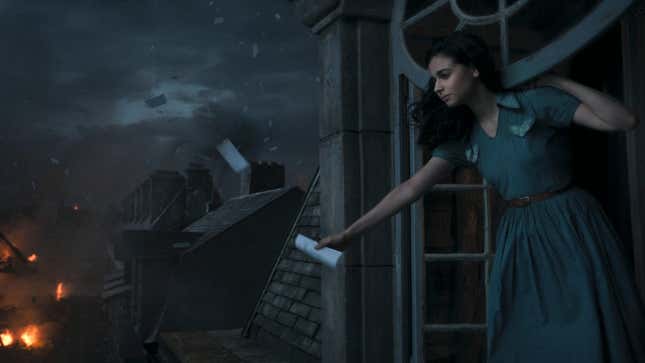 Time to cozy up indoors: Netflix is dropping several anticipated dramas in November. At the beginning of the month, there's the four-part miniseries All The Light We Cannot See (November 2), an adaptation of Anthony Doerr's Pulitzer Prize-winning novel of the same name. Set during WWII, the story follows a blind French girl and a German soldier who connect over an illegal radio broadcast—like the book, the show follows their journeys in parallel.
All the Light We Cannot See | Official Teaser | Netflix
The Crown also returns this month, with part one of season six arriving on November 16. This final season picks up in 1997 after the dissolution of Prince Charles and Diana's marriage, with Imelda Staunton returning in her role as Queen Elizabeth II. Four episodes are dropping in November, while the remaining six will stream on December 14.
On the film side, catch The Killer (November 10), David Fincher's latest film starring Michael Fassbender and Tilda Swinton. The action-thriller is based on a French graphic novel and follows an assassin caught up in an international manhunt.
THE KILLER | Official Teaser Trailer | Netflix
In the reality competition genre, there's Squid Game: The Challenge, which puts 456 real players through challenges inspired by the original show. New episodes drop weekly from November 22 to December 6. For fans of Drive to Survive or Full Swing (or both), Netflix is hosting The Netflix Cup: Swing to Survive, a match-play tournament featuring Formula 1 drivers and PGA Tour pros. The event will be live streaming from Las Vegas on November 14 at 6 pm ET, just days before the inaugural Las Vegas Grand Prix.
Here's everything else coming to (and leaving) Netflix in November.
What's coming to Netflix in November 2023
Coming soon (date TBA)
Elena Knows—Netflix Film
The Railway Men—Netflix Series
Replacing Chef Chico—Netflix Series
Available November 1
Hurricane Season—Netflix Film
Locked In—Netflix Film
Mysteries of the Faith—Netflix Documentary
Nuovo Olimpo—Netflix Film
Till Murder Do Us Part: Soering vs. Haysom—Netflix Documentary
Wingwomen—Netflix Film
13 Going on 30
13 Hours: The Secret Soldiers of Benghazi
60 Days In: Season 5
The Addams Family
The Big Lebowski
The Change-Up
Desperado
Downsizing
Drag Me to Hell
Love in the Wild: Season 1
Madea's Family Reunion
The Mummy (2017)
Paul Blart: Mall Cop
Paul Blart: Mall Cop 2
Pitch Perfect
The Scorpion King
Scott Pilgrim vs. the World
Sherlock Gnomes
Six Feet Under: Seasons 1-5
Sixteen Candles
The Social Network
Ted 2
Victorious: Season 3
Whiplash
Available November 2
Available November 3
Available November 4
The Amazing Race: Season 17
The Amazing Race: Season 31
Insidious: The Red Door
Lopez vs. Lopez: Season 1
Available November 7
Available November 8
Available November 9
Available November 10
Available November 11
Available November 14
Available November 15
Available November 16
Available November 17
Available November 20
Shahs of Sunset: Seasons 1-2
Available November 21
Available November 23
Available November 24
Available November 27
Available November 28
Available November 29
American Symphony—Netflix Documentary
Bad Surgeon: Love Under the Knife—Netflix Documentary
Available November 30
What's leaving Netflix in November 2023
Leaving November 3
The Amazing Race: Season 5
The Amazing Race: Season 7
Leaving November 6
Leaving November 10
Laguna Beach: Seasons 1-2
Leaving November 15
Accepted
Jeff Dunham: All Over the Map
Loving
Leaving November 22
Hard Kill
Love Island USA: Season 1
Leaving November 29
Disappearance at Clifton Hill
Leaving November 30
About Last Night
Arrival
Basketball Wives: Seasons 1-2
Dear John
Fences
Hook
LEGO: Friends: Seasons 1-4
New in Town
Peppermint
Stuart Little
Stuart Little 2
Superbad
Surf's Up
The Punisher
Up in the Air