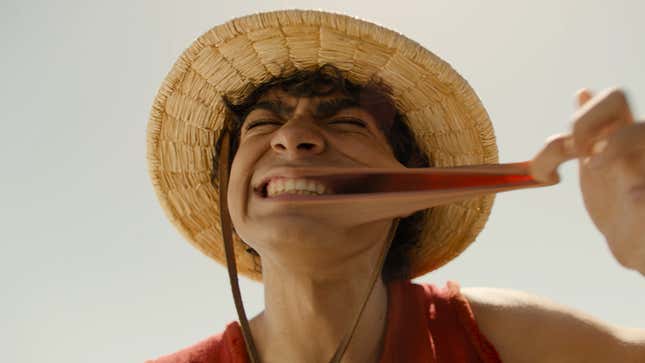 Netflix is back on its business (adapting a popular anime to live action). At the tail end of August, the streamer will drop the first season of the apprehensively anticipated flesh-and-blood take on Eiichiro Oda's long-running manga/anime series One Piece.
The last couple of times Netflix tried to adapt a popular anime into live action, the results were…let's say mixed. The 2017 Death Note film moved the setting from Japan to the U.S. and cast mostly white actors, annoying fans of the original property and failing to impress critics. The super expensive 2021 series adaptation of Cowboy Bebop tried a lot harder to be true to the source, but it still proved a tough translation between mediums, earned mostly puzzled reviews, and was quickly canceled.
The new One Piece show, developed by former Lost and The X-Files writer Steve Maeda and with the involvement of manga publisher Shueisha, is definitely aiming to respect the source material, but that's a tall order when the source material is a comic that has been running for more than two decades, features a cast of hundreds of over-the-top characters, and is based on a high-concept premise—bands of pirates race to find a legendary treasure, engaging in over-the-top battles involving cartoonish superpowers along the way.
I've read 30 volumes of the manga (out of more than 100 to date) and seen none of the anime. My reaction to the just-released trailer is basically [skeptical emoji], but there's definitely a lot of money on the screen.
ONE PIECE | Official Trailer | Netflix
In less ambitious bets, this month will also see the debut of a new docudrama series about the opioid epidemic, Painkillers (Aug. 10) starring Matthew Broderick; Heart of Stone (Aug. 11), a spy action thriller starring Gal Godot and Jamie Dornan; the animated martial arts comedy The Monkey King (Aug. 18), which is obviously aping (sorry) the Kung-Fu Panda series; and the second season of the queer romance Heartstopper (Aug. 3), also adapted from some popular YA graphic novels.
Here's everything else coming to (and leaving) Netflix in August.
What's coming to Netflix in August 2023
Coming in August (date TBD)
Guns & Gulaabs (IN) — Netflix Series
Risqué Business: Taiwan (KR) — Netflix Series
Arriving Aug. 1
Untold: Volume 3 — Netflix Documentary (New UNTOLD stories weekly)
Untold: Jake Paul the Problem Child — Netflix Documentary
2 Fast 2 Furious
Bee Movie
Cloudy with a Chance of Meatballs 2
Coming to America
Despicable Me
Despicable Me 2
Eat Pray Love
Fast & Furious
Fast Five
The Fast and the Furious
The Fast and the Furious: Tokyo Drift
Ferris Bueller's Day Off
Friends with Benefits
It's Complicated
The Jerk
Just Go With It
Lost in Translation
Madagascar 3: Europe's Most Wanted
No Strings Attached
Pawn Stars: Season 14
Poms
Terminator Genisys
Ugly Betty: Seasons 1-4
Arriving Aug. 2
Arriving Aug. 3
Arriving Aug. 4
Arriving Aug. 7
Arriving Aug. 8
Arriving Aug. 9
Ladies First: A Story of Women in Hip-Hop — Netflix Documentary
Arriving Aug. 10
Arriving Aug. 11
Arriving Aug. 12
Behind Your Touch (KR) — Netflix Series
Arriving Aug. 14
Paddington
The Wiggles: Ready, Steady, Wiggle: Season 4
Arriving Aug. 15
Ancient Aliens: Season 5
Ballers: Seasons 1-5
Jared Freid: 37 and Single — Netflix Comedy
Untold: Hall of Shame — Netflix Documentary (New UNTOLD stories weekly)
Arriving Aug. 16
Arriving Aug. 17
Arriving Aug. 18
Arriving Aug. 22
Arriving Aug. 23
Arriving Aug. 24
Arriving Aug. 25
Arriving Aug. 30
Arriving Aug. 31
What's leaving Netflix in August 2023
Leaving Aug. 12
Leaving Aug. 14
Leaving Aug. 15
Leaving Aug. 24
Leaving Aug. 31
A Knight's Tale
If Beale Street Could Talk
InuYasha the Movie: Affections Touching Across Time
InuYasha the Movie 2: The Castle Beyond the Looking Glass
InuYasha the Movie 3: Swords of an Honorable Ruler
InuYasha the Movie 4: Fire on the Mystic Island
The Italian Job
Mean Girls
Moving Art: Seasons 1-3
Open Season
Open Season 2
Paranormal Activity
The Ring
Salt
Scream: Seasons 1-3
She's Gotta Have It
Sister, Sister: Seasons 1-6
Sleepless in Seattle