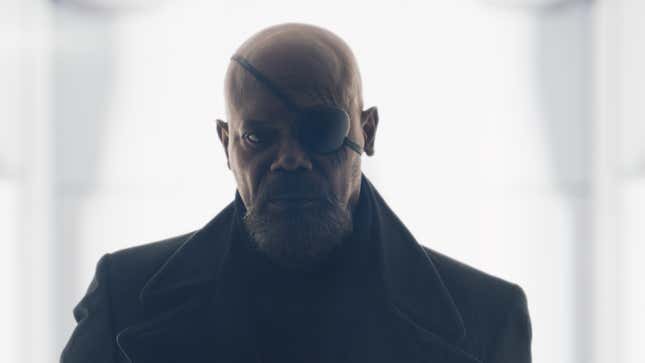 It's been a rough 2023 for the Marvel Cinematic Universe, with Ant-Man and the Wasp: Quantumania disappointing financially, critically, and in pretty much every other way, and even the long-delayed Guardians of the Galaxy, Vol. 3 opening to lower box office than its predecessor. But the franchise machine can hardly pause to reassess: The next MCU-adjacent TV series, Marvel Studios' Secret Invasion, premieres June 21 on Disney+.
Marvel Studios' Secret Invasion | Official Trailer | Disney+
I have no idea what's going on in this series, which seems to connect to a bunch of movies I haven't seen and shows I haven't watched; all I got from the trailer is that Nick Fury (Samuel L. Jackson) is back and looking a bit worse for the wear, and that the MCU has ensnared another Oscar winner (The Favourite's Olivia Coleman). If you've actually seen any of the stuff that came out after Avengers: Endgame, you probably understand the context a lot better than I do. Enjoy, hopefully.
If, like me, you've fallen woefully behind on the MCU, you can at least look forward to the streaming premiere of Avatar: The Way of Water (June 7). Say what you will about James Cameron's perfectionism, but with more than a decade between the first film and its sequel, I had no problem keeping up.
Also coming this month for some reason: Flamin' Hot (June 9), a movie about the inventor who came up with the idea for Flamin' Hot Cheetoes (except maybe he actually didn't), directed by Eva Longoria.
FLAMIN' HOT | Official Trailer | Searchlight Pictures
Corporate biopics are so hot right now.
Here's everything else coming to Disney+ in June..
Disney Plus series with new episodes premiering weekly in June 2023
Marvel: Secret Invasion (series premiere June 21)
Movies and complete series/seasons coming to Disney Plus in June 2023
Arriving June 2
Arriving June 7
America's National Parks (S2)
Avatar: The Way of Water
First Alaskans (S2)
Arriving June 9
Flamin' Hot — Disney+ Originals film premiere
Hailey's on It! (S1, 6 episodes)
Arriving June 14
Assembled: The Making of Ant-Man and the Wasp: Quantumania — Disney+ Originals documentary premiere
Last of the Giants: Wild Fish (S2)
Miraculous Tales of Ladybug & Cat Noir (S5, 5 episodes)
Pupstruction (S1, 8 episodes)
Raven's Home (S6, 4 episodes)
Arriving June 16
Pretty Freekin Scary (S1, 7 episodes)
The Villains of Valley View (S2, 5 episodes)
Stan Lee — Disney+ Originals documentary premiere
Arriving June 21
Extraordinary Birder with Christian Cooper (S1)
Minnie's Bow-Toons: Camp Minnie (S1, 9 episodes)
Arriving June 23
World's Best — Disney+ Originals film premiere
Arriving June 28
Alice's Wonderland Bakery (S2, 7 episodes)
The Ghost and Molly McGee (S2, 5 episodes)
Home Improvement (S1, S2, S3, S4, S5, S6, S7, S8)
Home in the Wild (S1)
Disney Gallery: Star Wars: The Mandalorian – The Making of Season 3 — Disney+ Originals documentary premiere
Week-End Family — Disney+ Originals season 2 premiere