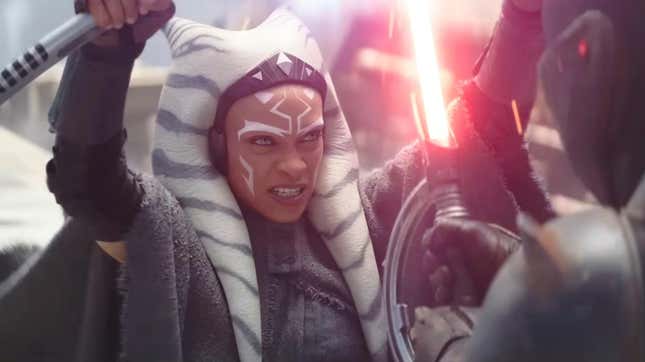 It's mid-2023 and I am officially calling it: I'm never catching up on all of the Marvel TV shows. Star Wars though? Star Wars I still have a chance—but Disney+'s latest offering, the Jedi-centric Ashoka, premiering Aug, 23, will test my fortitude.
On the one hand, the trailer looks really fun and the cast is great. On the other hand, it foregrounds a character (played here and in The Mandalorian by Rosario Dawson) I find it very difficult to feel invested in because I didn't watch the 130-odd episodes of the animated series Clone Wars that established her backstory. Not to mention the 75 episodes of Rebels that set up a few of the supporting characters who pop up in the trailer, including Sabine (Natasha Liu Bordizzo) and Ezra (Eman Esfandi).
On the other other hand (who am I, General Grievous? Ha ha ha!), Andor was so good it made me love the franchise again after whatever was going on in Rise of Skywalker, so I'll give it a go.
Ahsoka | Official Trailer | Disney+
Here's everything else coming to Disney+ in August 2023, including the fourth season premiere of High School Musical: The Musical: The Series, which, yes, is still actually called that.
Disney Plus series with new episodes premiering weekly in August 2023
High School Musical: The Musical: The Series (season 4 premieres Aug. 9)
Star Wars: Ashoka (premieres Aug. 23)
Movies and complete series/seasons coming to Disney Plus in July 2023
Arriving August 2
Farm Dreams (S1, 6 episodes)
How Not to Draw Shorts (S1, 5 episodes)
Kiff (S1, 4 episodes)
Star Wars: Young Jedi Adventures
Arriving August 4
Arriving Aug. 9
Chibi Tiny Tales Shorts (S3, 11 episodes)
Dino Ranch (S2, 9 episodes)
Arriving Aug. 11
The Amazing Spider-Man 2
Barnyard Olympics
Donald's Cousin Gus
Donald's Nephews
Flying Jalopy
Goofy and Wilbur
Mickey's Steam-Roller
Arriving Aug. 16
Disney Junior Wonderful World of Songs (S1, 10 episodes)
Hamster & Gretel (S1, 4 episodes)
The Villains of Valley View (S2, 6 episodes)
Wicked Tuna (S12, 20 episodes)
Arriving Aug. 17
The Wonder Years (S2, 10 episodes)
Arriving Aug. 18
LEGO Princess: The Castle Quest — Disney+ Originals premiere
Arriving Aug. 25
Cinderella 4K Remaster
Explorer: Lost in the Arctic
Arriving Aug. 30
Chip 'n' Dale: Park Life (S2, new episodes)