It's official: the iPhone 15 will ditch Apple's proprietary Lightning port and feature a USB-C port instead. Apple confirmed the change during Tuesday's "Wonderlust" event, unveiling the iPhone 15 line, as well as two new Apple Watches: the Series 9 and Ultra 2. The change comes in response to a recent European regulation that requires all phones and tablets to use a universal USB-C charging port by fall 2024.
This change is a big deal for Apple users, affecting everything from the iPhone 15's charging features and how it interacts with other Apple devices to whether the new iPhones will support existing accessories.
How USB-C affects the iPhone 15
There are numerous potential benefits the iPhone 15's USB-C port could bring to iPhone users, but so far we can point to a few concrete upgrades based on the Apple's announcements from the event.
The most immediate upgrade is easier charging and data transferring via wired connection. The iPhone 15 will ship with a USB-C to USB-C cable that plugs into any existing iPhone charging brick, or into any Mac, Windows PC, or other device with a USB-C port. You will even be able to use your iPhone 15's battery to charge your Apple Watch or AirPods case via USB-C.
And since the latest USB-C cables enable faster data and charging speeds than Lightning, iPhone 15 Pro models will support USB speed at up to 10 Gbps, which is a healthy boost over the iPhone 14's meager 480 Mbps. Unfortunately, the iPhone 15 and 15 Plus use the same USB 2.0 standard as Lightning, so they tool will get the same 480 Mbps speeds even over USB-C. If you care about improved speeds, you need to opt for the more expensive Pro iPhone this year.
But that means you also need a cable that supports those speeds in the first place. Be careful: If you pick up this USB-C cable from Apple, for example, it only supports USB 2.0 speeds—great for the iPhone 15, but not for the more capable 15 Pro. Instead, you need something like this Thunderbolt 4 cable which will take full advantage of the Pro iPhone's speeds.
Another perk briefly mentioned in during Apple's presentation is how USB-C can transfer video and audio in addition to data and power. You will be able to plug your iPhone 15 into an external display using USB-C to HDMI or Display Port. Whether this will work with any USB-C display out of the box is unclear for now, but the functionality is there. You can also record video directly to an external source, so you don't need to worry about running out of space on your iPhone's internal storage during a shoot.
What about my iPhone accessories?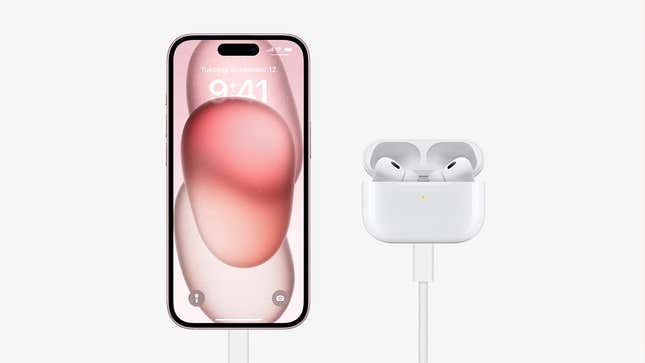 Plenty of Apple products have featured USB-C ports for years, but iPhones—and therefore iPhone accessories—stuck to Lightning until the bitter end. To account for this change, a new line of USB-C iPhone accessories is rolling out alongside the iPhone 15, including a new USB-C version of Apple's wired EarBuds.
However, this also means there's a whole bunch of iPhone accessories that can't plug into the iPhone 15 out of the box. Thankfully, the change to USB-C doesn't render your old Lightning port cables, Earbuds, and other accessories obsolete. These devices can still work with the iPhone 15…as long as you buy the required $30 Lightning to USB-C adapter dongle from Apple. I guess it's cheaper than replacing all your Lightning accessories, but $30 for a tiny dongle is steep.
(The iPhone 15 also includes Apple's MagSafe technology, so your existing MagSafe accessories and wireless charging devices will work with iPhone 15, no adapters needed.)
Does this mean I can use non-Apple USB-C cables and accessories on an iPhone 15?
This is one of the biggest questions left unanswered from Apple's Sept. 12 event.
At this time, it seems like Apple will let you use third-party cables to their full power and specs. The fine print on the iPhone 15 Pro announcement specifies you need a USB 3 cable to reach 10 Gbps speeds, not specifically an Apple-branded USB 3 cable. If that's the case, you could save quite a bit of money opting for a cable like this on Amazon over one of Apple's expensive accessories.
However, rumors suggest Apple may implement a Made For iPhone program for USB-C cables and peripherals where manufacturers would have to pay and submit their devices to testing to get Apple's stamp of approval, while non-Apple-approved USB-C accessories may not work properly with iPhone 15. The EU responded to these rumors warning Apple it may ban iPhone sales in Europe should the company implement such restrictions, but we won't know for sure if Apple complied with the request until folks can test third-party cable performance on the new iPhones.