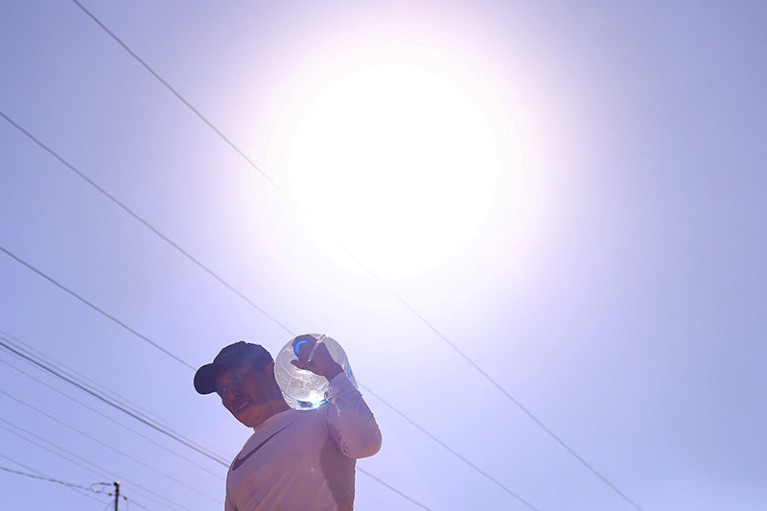 June has been a record-breaking month for Earth. Key climate markers including global air and sea surface temperatures both surpassed previous records for the month (see 'Temperature records broken'), and global sea ice was at an all-time low for June. Many regions experienced searing heat, with countries across the Arab world, southern Europe and Asia — including China and Japan — reaching record temperatures for the month.
In some places, the heat has had disastrous consequences, including destruction and pollution from unprecedented wildfires in Canada, and rising death tolls from a lengthy heatwave in Mexico. Researchers say that human-made climate change is responsible for the increased intensity of the "heat dome" over Southern America.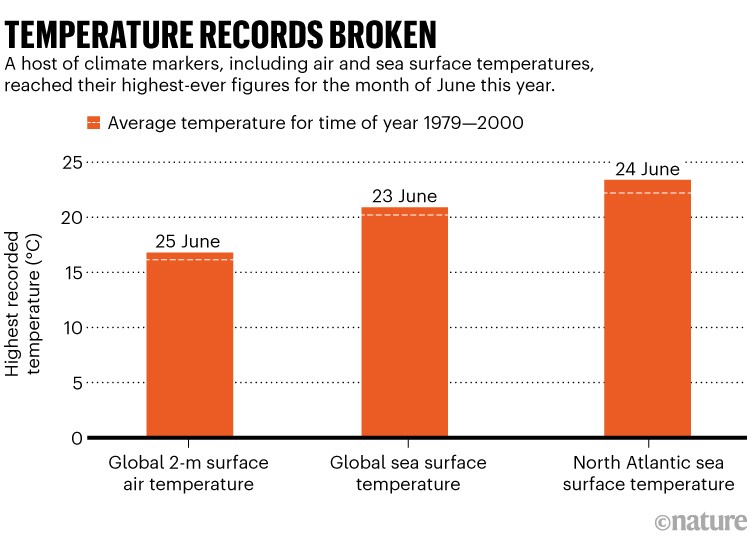 "This is further evidence of destabilization of the global climate system," says Eric Holthaus, a meteorologist and the founder of a weather service called Currently in Minneapolis, Minnesota.
Warmer than ever
Records for individual climate phenomena have been broken in previous years, but this June felt different, says Thomas Smith, an environmental geographer at the London School of Economics. "At the moment everything is record-breaking and I don't think any of us have seen that," he says. In the past decade, extreme weather events linked to climate change have become increasingly common, and the past eight years were the warmest on record.
The oceans are warmer than ever: in June, the sea surface temperature anomaly — which tracks how much the current temperature varies from the historical average — was 1.1°C above the average from 1982 to the present.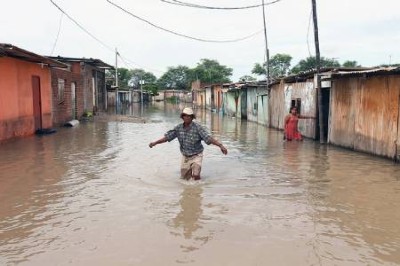 El Niño is here — how bad will it be?
"There are lots of things that can explain sea surface temperatures, and the most important one is how much sunlight it's received," says Smith. This year there has been less Saharan dust, and winds over the Atlantic have been weaker than usual, meaning that the extreme temperature could in part result from simple variability in conditions. "But even so, the records have been broken by some way," he says. "It's warmer than ever before. All of these underlying trends are driven by extra greenhouse gases in the atmosphere, which do impact ocean surface temperatures as well because they receive infrared energy from the atmosphere."
The amount of sea ice globally also veered far from the June average. The lowest extent was recorded on 29 June at 21.78 million square kilometres, an anomaly of –3.84 square kilometres, according to data from NASA's snow and ice data centre. In Antarctica, where June marks the middle of winter, sea ice was at an all-time low for the month. "Not only is Antarctic sea ice at an extreme and record low for June, but this comes on the back of several record low months in the past 18 months," says Caroline Holmes, who studies sea ice at the British Antarctic Survey in Cambridge, UK. "Sea ice is hard to predict, but given this recent history, it's hard to see it bouncing back much in the next year," says Holmes. "Sea-ice loss matters for multiple ecosystems which rely on the sea ice, and particularly on the timing of its annual freeze and melt, which are now so disrupted."
Fire season
In Canada, swathes of the country have experienced temperatures up to 14°C above the average for June, along with catastrophic wildfires. Data from the European Union's Copernicus atmospheric-monitoring system shows that, cumulatively, the amount of carbon released to the atmosphere in June surpassed the maximum amount usually released during the entire wildfire season, which runs until late August (see 'Wildfire emissions'). "Normally in Canada, the fires are July or early August and then things settle down. But what you can see here is a June that is 10 times more important than any previous June in the record," says Smith. This is directly linked to the heatwave, he adds.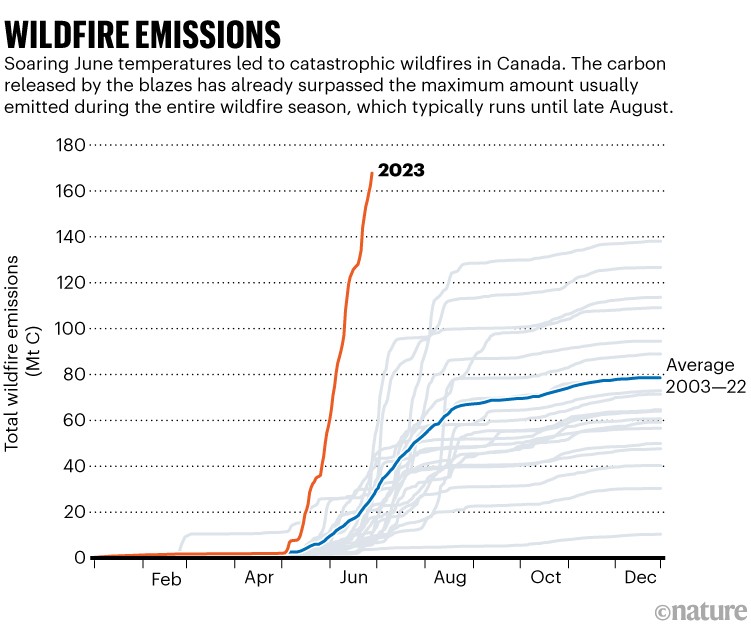 Elsewhere, Mexico's extreme heat has been continuing for weeks, with temperatures hitting 49°C. The heatwave has extended into the southern United States.
The planet is entering an El Niño period, which brings warmer temperatures. This means that temperatures look set to continue rising. "Normally, the global effects of El Niño take months to kick in. If anything, that will kick in the following year," says Smith.
"The good news is that we know what we need to do. It's not like it's some alien invasion or black hole that's approaching us or something," says Holthaus. What's needed, as the Intergovernmental Panel on Climate Change has been demanding, is "sustained and substantial reductions in fossil-fuel emissions as quickly as possible", he adds.