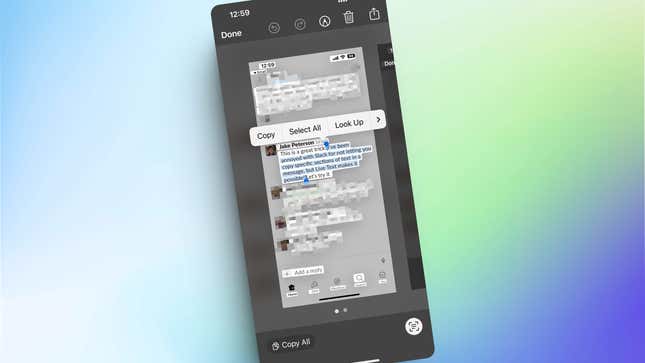 Interactive text is an underrated iOS feature that's been with the iPhone since the beginning. When it works, you can tap on a phone number and choose to call it, or navigate to an address that appears on-screen. But not all apps take the time to integrate this feature. Even worse, some apps, like Slack and Instagram, don't even let you copy individual parts of a message, and instead force you to copy the entire block of text.
Luckily, there's a workaround use can use to copy any text (or tap any un-tappable phone numbers or addresses) on your screen. And, weirdly, it requires you to take a screenshot first. To make this happen, you'll be using Live Text, a feature available on every iPhone running iOS 15 or higher. You may have already used it for copying text visible through your camera. As it turns out, the practice works the same in the screenshot markup tool.
How to copy or select text in any app using Live Text
First, take a screenshot of the text you want to copy, then tap the floating screenshot preview in the bottom left to open the editor. Apple opens the markup tool by default, but that's not what you want right now, so tap the Pen icon in the top toolbar to disable it. Next, tap the Live Text button that appears in the bottom-right corner. Instantly, iOS will highlight all the text in the screenshot. Now, you can choose the Copy All button to copy all the text, or you can tap anywhere on the text to select and copy it like you normally would.
If there's a phone number or an address in the screenshot, it will be underlined as well, so you'll be able to call someone or locate the address in your default mapping app with just a tap. After you're finished, there's no need to crowd your camera roll, either—tap the Done button and choose the Delete Screenshot option to instantly delete the screenshot. It's not nearly as convenient as in-app selectable text, of course, but it's the next best option for now.