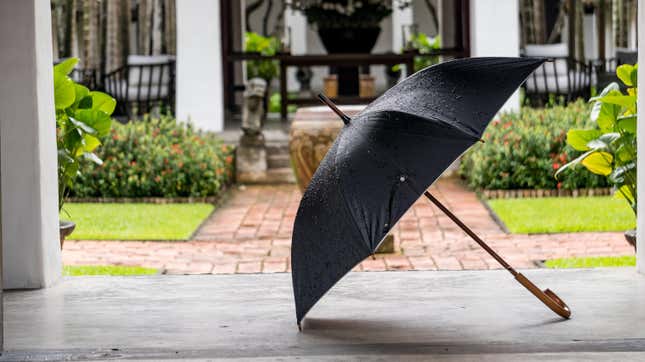 If you're not careful, cleaning ceiling fans, chandeliers and other hanging light fixtures can leave dust and gunk on everything down below, which is basically the opposite of what you're trying to accomplish. To avoid that, forget what you think you know about opening umbrellas indoors and try this trick to make sure that doesn't happen.
How to use an umbrella when cleaning a light fixture
When it's next time to give your ceiling fan, chandelier, or light fixture a good cleaning, Mary H.J. Farrell at Consumer Reports recommends you open and hang an umbrella (the kind with a U-shaped handle) upside down from the bottom of it.
Next, use a blow dryer on the cool setting, a duster, or a damp paper towel or cloth to remove all the dust and the umbrella will catch anything that falls. If you need to use any cleaning products to wipe it down, the umbrella will catch those drips too. When you're all done, unhook the umbrella, empty out any solid debris into the garbage, and check the tag for further washing instructions. Make sure it's clean and dry before storing it again for next time (or, you know, rainy weather).
---
All you need for messless ceiling fan cleaning:
Any J-handle umbrella will work, but we like

this one from Totes

($23) because it's cheap and the handle curves more inward than other models at similar price points, meaning you are less likely to knock it onto the floor.
A hair dryer: To blast dust, you need a hair dryer that has an attachment to direct airflow right where you want it, like

this one from Revlon

($18.34).
A duster: Pick up a

Swiffer duster

($9.95) for a small-sized tool that will fit in tight spaces and trap dust.