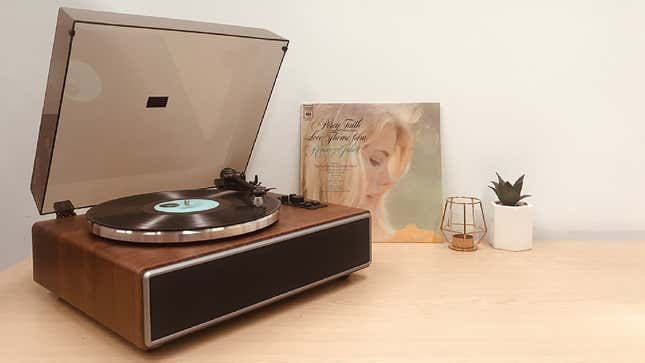 This Mbeat Hi-Fi Turntable with built-in bluetooth speakers is on sale for $249.99 right now (reg. $369.95). It has a full-sized platter to hold your vinyl, and its suspended sub-chassis mechanism helps reduce feedback so your 33 and 45 RPM vinyl can sound even better. You can also connect your devices to the Mbeat with bluetooth and stream your non-vinyl albums from your phone.
Of course, built-in speakers won't produce the same sound quality as external ones, but the Mbeat has an RCA output so you could also connect to a larger stereo setup, if you want. And it just looks cool—a great design makes it a showpiece for your living room or bedroom, and its compact size doesn't take up much space.
You can get the Mbeat Hi-Fi Turntable with bluetooth speakers for $249.99 right now (reg. $369.95), though prices can change at any time.