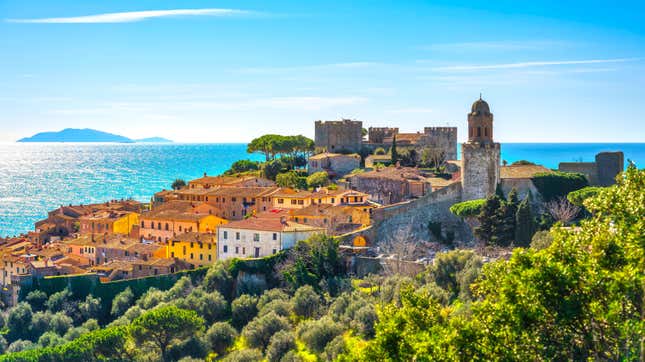 The online budget travel agency Gate1 is offering an eight-day, six-night trip to Tuscany, Italy, with a round-trip flight, hotels, car rental, and daily breakfast all included for $699 per person. Here's what you need to know.
How the deal works
Gate1 normally sells these kinds of packages where you get a certain amount of days in a location with flights and hotels usually included. They are not usually this inexpensive, however. One of the main reasons for this deal is that it's for winter travel (traveling in shoulder season is a great way to save) and is $160 cheaper with promo code "TZWTCM."
The advertised price is set from New York City, but there are many other airports you can fly from with the same or similar price. You must also travel with another person; otherwise, you pay a $300 "single supplement" fee. There are multiple dates available for you to take off; however, the cheapest price of $699 ($859 listed price before coupon) is only available for January 18, 24, 25, 31, and February 1. There are other dates available, including a $739 ($899 listed price before coupon) on November 23 and others from November through March 2024 for a couple more hundred dollars. The $160 off per person promo code expires on September 30, and the bookings are for a limited number of seats, so book sooner rather than later if you're interested.
---
Travel smart with these products:
---
Here's what's included on this Tuscany trip
For $699 per person, you get:
Round-trip flights from New York to Milan Malpensa
Airline taxes & fuel surcharges
Six nights of hotels (five nights in Montecatini and one night in Milan Malpensa)
Seven-day car rental with unlimited mileage and insurance. It's a manual Lancia Ypsilon or similar, but you can upgrade for a fee if you wish.
Daily breakfast
How to get this deal
Follow this link to see the deal. To start the process, click "book now." Select the dates that work for you at the listed prices (this is before the $160 per person promo code is applied). Select your airport and how many people are traveling, and click "continue." Select your flight information (select the ones labeled "included to avoid paying extra fees") and click "continue." At the "reservation overview" window, use promo code "TZWTCM" to get your $160 off per person.

If you get the $859 bookings, your total should come up to $1,398 for two people as long as you didn't add any add-ons. However, while trying out the options, I did find some that were more expensive and others that were cheaper (I found a single-person booking for $559 total when leaving on Feb. 1). The website can be kind of inconsistent (sometimes the insurance portion would not recognize I had selected "none" and would still ask me to choose an option). If you don't get the results you're expecting, reload the page and try again.