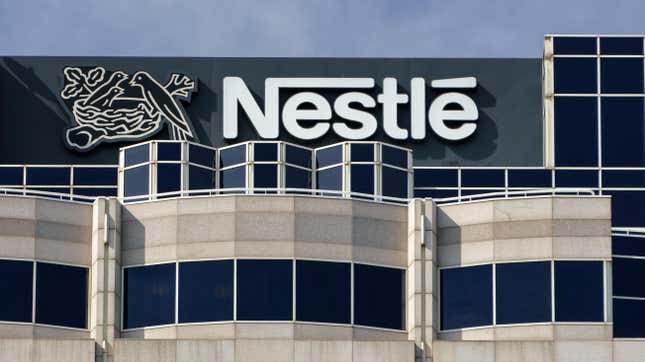 Nestlé has had its fair share of recalls regarding "foreign materials" on their cookies, specifically plastic. But now, it seems wood is making its way into places it shouldn't be. Nestlé USA has issued a voluntary recall after finding some wood fragments in some of their Nestlé Toll House Chocolate Chip Cookie Dough products. Here's what you need to know.
Nestlé's cookie dough recall is nationwide

The specific product recall is "Nestlé Toll House Chocolate Chip Cookie Dough break and bake bars," which come in 16.5-oz. packages. You can see an image of the product here. Two specific batches were narrowed down as the ones with the potential of containing the wood fragments. However, they were distributed to retailers across the United States.
The two affected batches were produced on April 24 and 25. The two batch codes for the recalled cookie dough bars are 311457531K and 311557534K with "Best By Dates" of Aug. 22, 2023, and Oct. 23, 2023. You can find these codes and dates on the side of the package highlighted in a brown color (this image shows where you can locate them).
The recall was initiated after some customers contacted Nestlé after finding wood fragments in their cookie dough bars. Nestlé says no other Toll House products are affected by this recall, and there have been no illnesses or injuries reported that have been linked to the wood fragments in the cookie dough bars. The recall is being done out of an abundance of caution.
What to do if you have the recalled Nestlé cookie dough bars
Everyone who has the product in their refrigerators should verify that their cookies are not from one of the recalled batches. Nestlé wants everyone who has them to not prepare them or eat them, and instead, to return them to the retailer where they bought them to receive a replacement or refund.
If you have questions about the recall, you can contact Nestlé USA at (800) 681-1678 Monday throughFriday from 9 a.m. to 6 p.m. ET. You can use the same number to report to them anything else you find that should not be in their products.