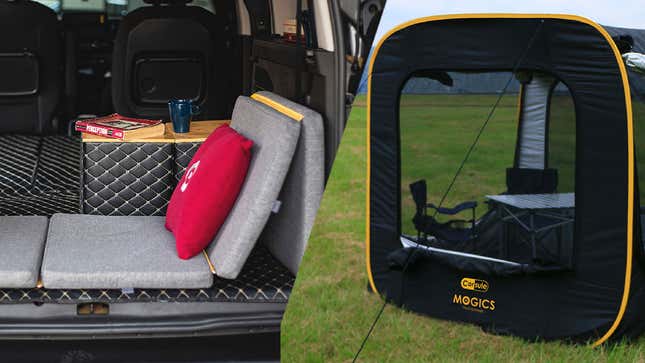 You can get the Carsule pop-up cabin and inflatable mattress on sale for $399.99 right now (reg. $508). The Carsule pops open from its case and has supporting rods and magnets that attach to your car, and gives over six feet of standing height and plenty of space for people. It also has waterproof flooring, a UV protective coating, and integrated mosquito netting. You have to have a swinging hatchback, though, as that serves as the Carsule's primary structural support.
MOGICS CARSULE x MOTTRESS
The inflatable mattress—called a "Mottress"—has an origami-style foldable design with four sections that allow for various configurations, like a makeshift couch or traditional inflatable bed. It's made with breathable fabric, and the cover can be removed and washed.
You can get the Carsule and "Mottress" for $399.99 right now (reg. $508), though prices can change at any time.