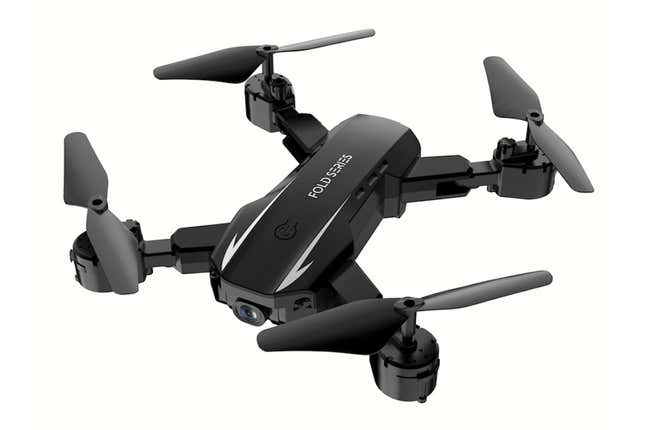 The Ninja Dragons Blade X is a beginner-friendly drone with responsive controls, mid-range specs, and a temporarily extra-low price—it's on sale for $79.97 right now. The Ninja Dragons Blade X Drone is a nimble, low-cost, beginner-friendly drone equipped with dual cameras, including a 4K HD primary camera and a secondary 720p camera. Both can be viewed in first person with a connected smartphone.
The Ninja Dragons Blade X Drone uses an electronic stabilization system that helps maintain precise altitude and flight position control for stability during flight. Inexperienced pilots might crash a more advanced drone that gives the pilot full control, but this one helps keep itself in the air.
When you want to go out flying, the Blade X folds and fits into a compact carrying case. While it's is in the air, you can use the included remote or gesture controls to direct your flight. This drone has a maximum range of 150 meters, and lasts up to 12 minutes in the air on a single charge. It takes up to 120 minutes to recharge. For beginners, there's also a one-click takeoff and landing button to avoid crashing during delicate maneuvers (and four backup blades for when you crash anyways).
Flying drones is a fun hobby, but there's definitely an expensive learning curve if you jump right into the high-end quadcopters. You can get the Ninja Dragons Blade X 4K Dual Camera Drone for $79.97 right now through September 4 at 11:59 p.m. PT, though prices can change at any time.
Ninja Dragons Blade X Ultra HD Dual Camera Drone