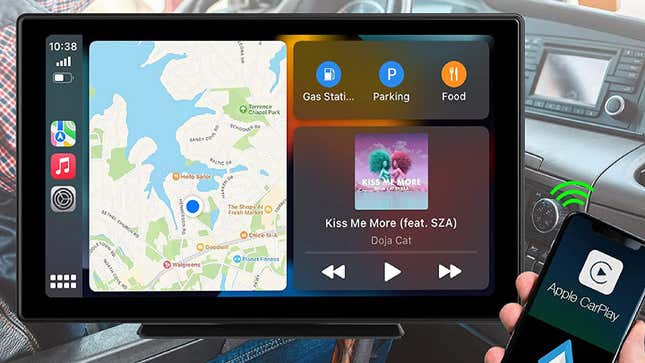 This 9-inch Heads Up Car Display screen is easy to install, and it's on sale for $104.99 right now (reg. $289.99). It has a large screen that works with Apple CarPlay or Android Auto, and allows you to control music, navigation, and hands-free calls. Setup takes three steps:
Attach the suction mount to your car's dashboard.
Attach the 9-inch screen.
Plug the power cord into your car's lighter power supply.
Carpuride 9 inch review – Apple CarPlay and Android Auto for any car!
The basic design means it should work with whatever car you have, but you'll obviously need a working lighter power supply and a smooth surface on your dash. You'll also need your smartphone for wireless connectivity, or you can connect a TF card or aux cable to listen to music the old-school way.
This 9-inch Wireless Heads Up Car Display is on sale for $104.99 right now (reg. $289.99), though prices can change at any time.