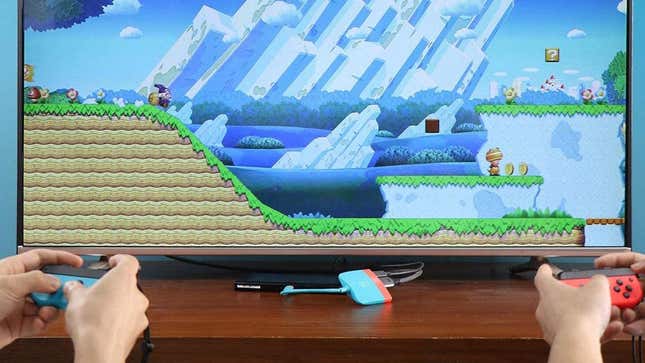 The Nintendo Switch turned a full game console into a portable device, but the docking station it comes with doesn't boast the same portable design. You can use the Switch without the docking station, but you need a docking station if you want to connect it to the big screen.
If you want a docking station that's as portable as the console it connects to, you can get the three-in-one Nintendo Switch Docking Station, which comes with most of the features of the original dock packed into a much smaller frame, on sale for $19.99 (Reg. $24).
Get a small dock for your Nintendo Switch
This replacement dock for the Nintendo Switch is compact and portable without losing many features of the original docking station. Instead of using a bulky plastic box for your portable game console, just plug your HDMI, USB-C, and USB 3.0 cables into the hub. The HDMI port supports video resolution up to 4K, and you can power your Switch while it's plugged in.
It's also great for travel. Verified buyer Whitney P. writes, "Super easy to use and so much easier than bringing the standard dock! Brought it on a trip with me and it fit great in my backpack."
The only thing missing from this docking station are the two extra USB ports on the front of the original. But it still comes with one USB 3.0 input you can use to pair controllers one at a time. Plus, you aren't limited to using this docking station for one device. If your phone is HDMI-compatible, you can plug it in and stream on the big screen.
You can get the 3-in-1 Nintendo Switch Docking Station right now for $19.99 (though prices may change at any time).